On any luxury African safari, your safari hosts take your culinary experience just as seriously as your wildlife experience.  With top-class chefs running 5-star kitchens, you can be ensured that your taste buds will be experiencing a whole adventure of their own during your luxury safari holiday.
Here's what you can expect from luxury safari dining.
Mealtimes on a Luxury African Safari
If there's one thing you won't be on safari, it's hungry.  Keeping in mind that although activities are scheduled at set times, none of the activities or game drives are compulsory.  If you have a private chef and safari vehicle as provided at some luxury villas, you will be able to tailor-make your itinerary.
Early morning game drives are great to spot wildlife as they go for a morning drink at riverbanks and waterholes.  Once the sun rises and the heat of the African sun sets in the animals retreat to the shade of the trees where they are harder to find.  Morning safari's usually set off around 05h30, but before you depart there will be a cozy cup of coffee or tea and refreshments to kick start your day.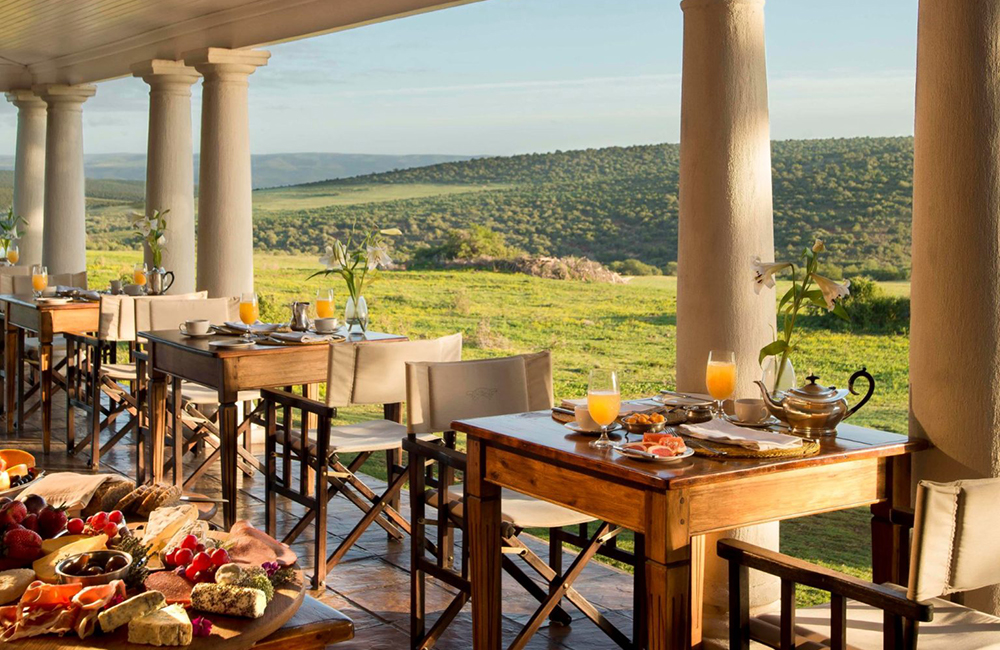 Breakfasts are served around 09h00, once you've returned from your morning safari.  Thereafter you can either relax or enjoy the additional activities on offer by your luxury lodge.  Between 13h00 and 14h00 you can enjoy a relaxed outdoor lunch, and by 16h00 it's afternoon high-tea, allowing you to grab a bite before heading off on your evening safari. 
Late-afternoon safari drives will include a sundowner stop, watching as the sun sets behind the hills and the stars come out to play.  The safari turns into a night-time adventure where the nocturnal animals of the wild creep out of their hiding places.
Back at the lodge, around 20h00 dinner is served, and if you're still peckish before bedtime, your room is stocked with a snack minibar.
What You'll Eat for Breakfast on Safari
Safari breakfasts are a celebration of a new day in the African bush.  You can enjoy an international continental buffet selection to your preference and order hot dishes à la carte.  Depending on your luxury lodge, breakfast will be served at the lodge viewing deck, garden veranda or dining room.  Bush breakfasts can also be arranged for a personalized morning feast out in the open bushveld.
Safari Lunch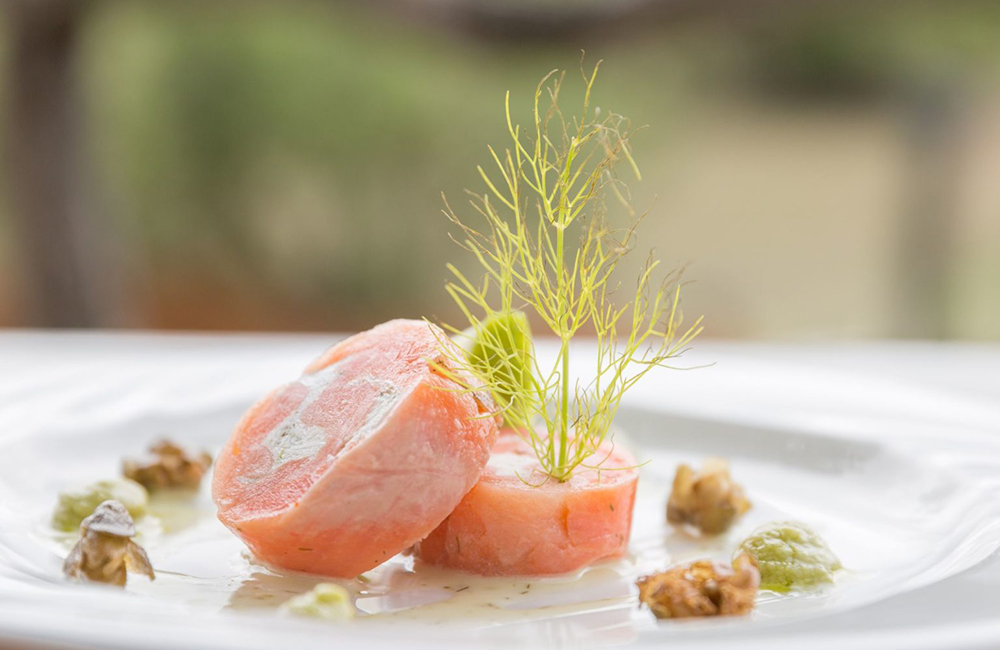 Setup on the sundecks, lunch is a time to savour lazy summer afternoons overlooking the rivers, vast plains or even dine beside the lodge pool.  Dishes are made to order – from contemporary African influences to kudu burgers, and international fare.  Highly trained chefs use fresh seasonal ingredients to provide excellent quality 5-star dining at every meal.
Luxury Safari High Tea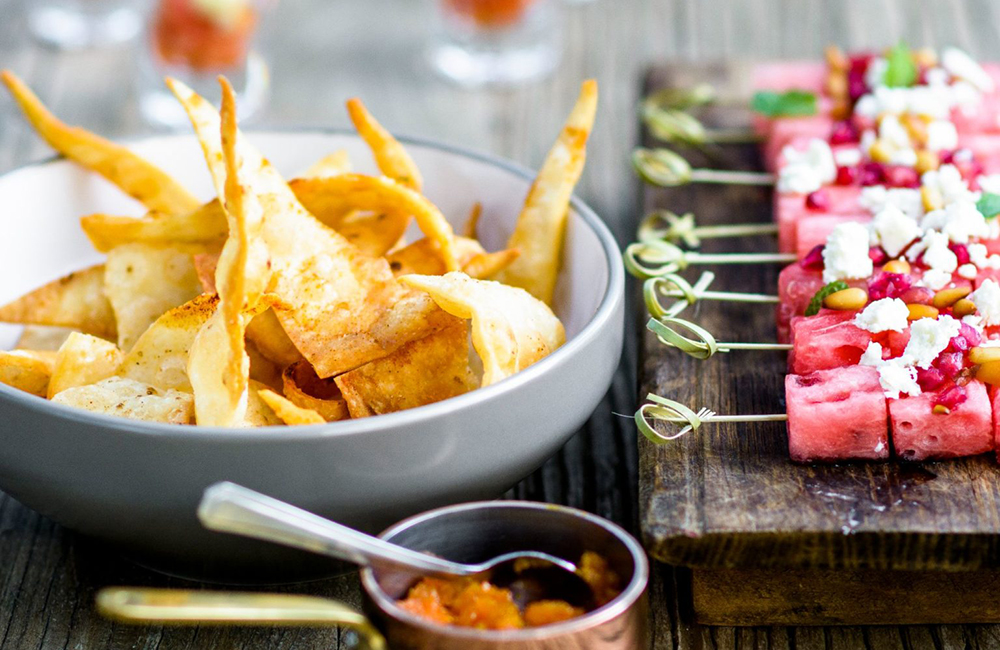 Sit out on the patio for afternoon high-tea.  Beverages and stylish snacks will get you ready for your evening game drive as temperatures start to drop and the cool evening air sets in.  Meticulously crafted pastries show off the skills of high-end chefs and their passion for delighting through dining.
Luxury Safari Dining Options
Mealtime in Africa is not only a scrumptious feast but also a time of community, socializing and sharing.  On occasion, tribal dancers and singers may open the evening as you experience an extravagant boma dinner under the Milky Way and crackling fires keep you warm with lanterns gently lighting up the outdoors.  Elegantly set dining tables encircle a roaring fire for a truly remarkable atmosphere.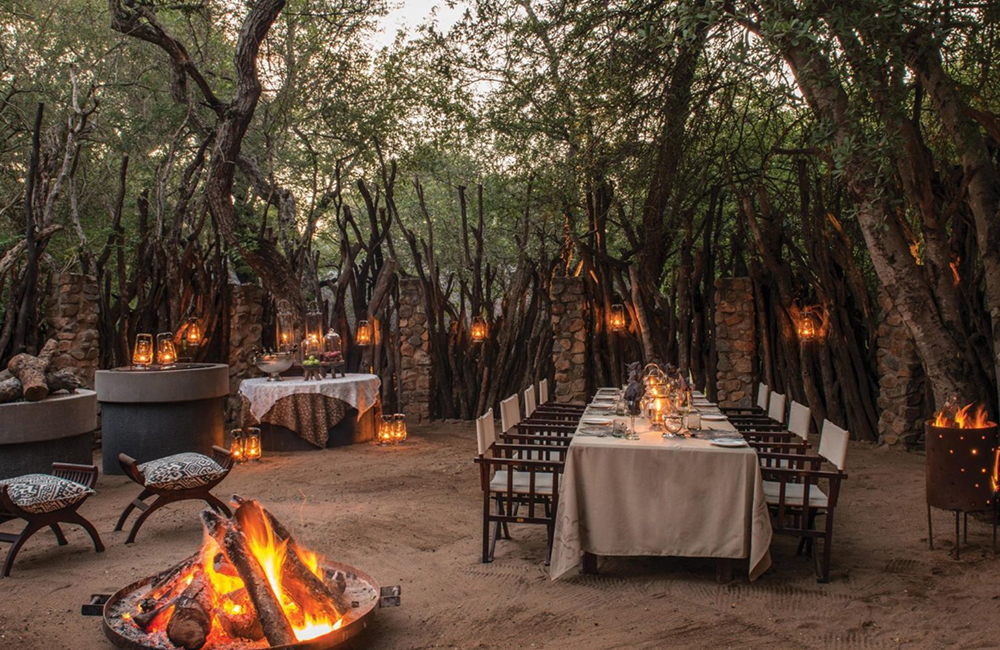 Savour world-class wines with your gourmet African barbecue paired with seasonal vegetables, salads and a taste of African spices.  Although authentic methods and flavours are expertly incorporated the menu may change with a variety of marinated venison, lamb, beef, chicken and fish dishes.  A traditional maize meal porridge known as 'pap' or 'putu' is a creamy or crumbly starchy accompaniment slathered with tomato-based sauces, sausage or spicy additions.  Alternatively, your boma dining affair may include a traditional 'potjie' which includes a cast iron pot directly placed on open coals slowly simmering a hearty stew of spices, vegetables, and meats ranging from warthog to lamb.  
World-class 5-star chefs at luxury lodges are well versed in a variety of international cuisines from Indian to contemporary delights.  At the heart of their creations, whether indoor fireside dining or outdoor boma celebrations, is their passion for using sustainable produce and showcasing the beauty of nature.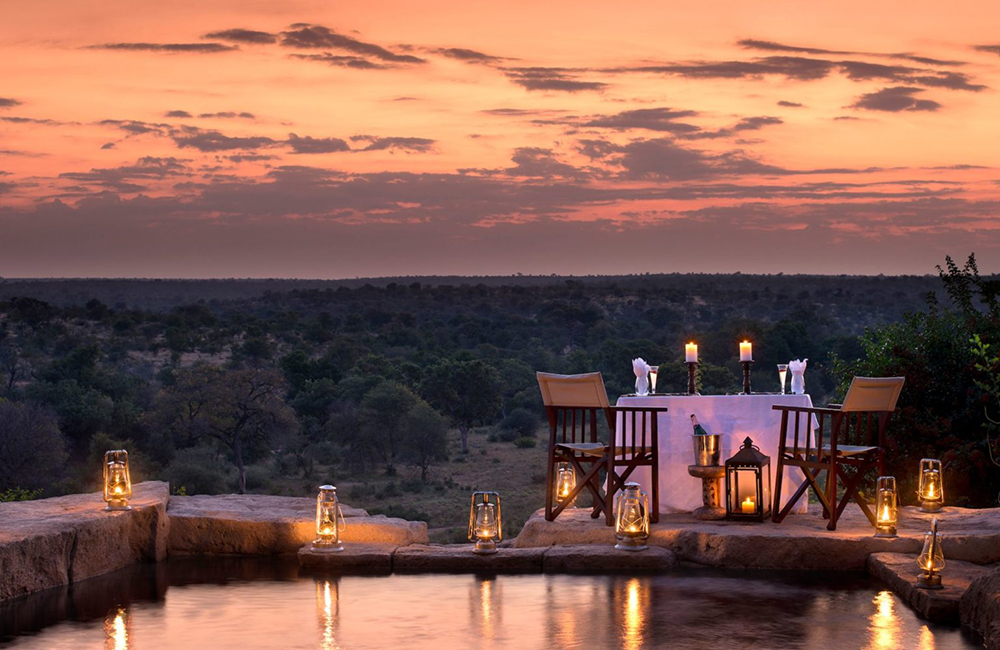 For an intimate dining experience arrange a candlelight dinner for two out in the bush, with a private butler.  Romantics can also enjoy opulent dining on their private suite deck or spend the night in a secluded luxury treehouse with champagne and a gourmet picnic basket for two.
Wine Tasting
With world-class dining there undoubtedly needs to be world-class wine.  Some luxury lodges boast their own magnificent wine-cellars for guests to choose a preferred vintage and savour fruity, woody, and crisp selections.  Whether lounging next to the pool, watching the sunset over endless wild plains or cuddling next to a crackling fire, sipping a glorious vino makes it all the more luxurious.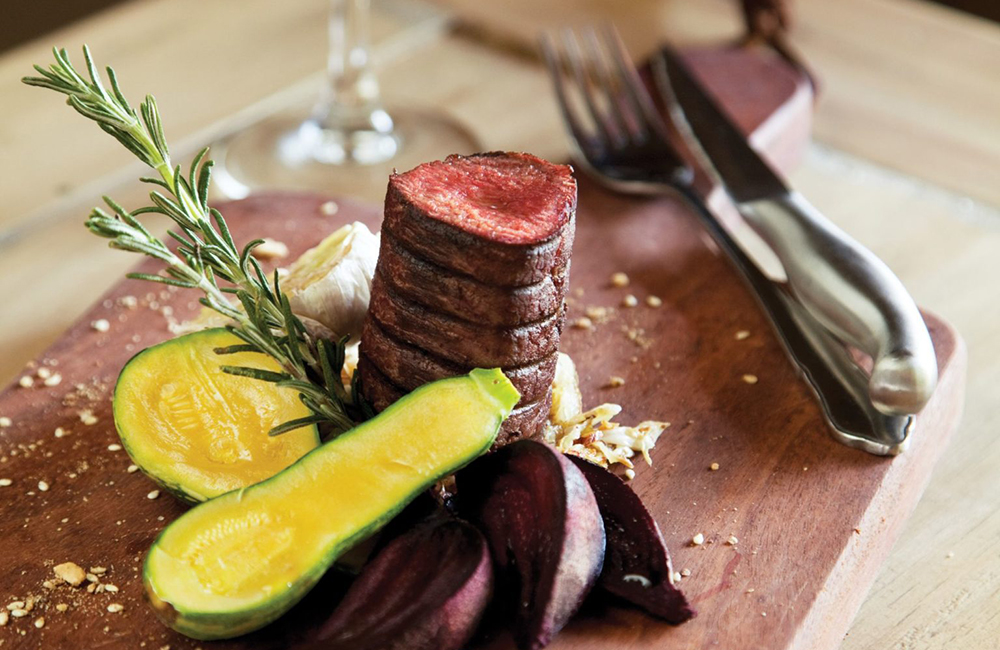 Whether its breakfast, lunch, dinner, cocktails or tea-time, luxury safari lodges in South Africa strive to provide you with a contemporary culinary experience that your taste buds will never forget.  Not only is the food elegant, seasonal, and prepared with utter care and style, but the dining setting with each meal allows you to soak in a little more of the authentic African wilderness. It is the pleasure of chefs to cater for special dietary requirements by prior arrangement.
A luxurious culinary adventure awaits in the wild!