Eastern Cape Safaris
Home to one of the densest African elephant populations on earth, the Eastern Cape is superbly situated at the end of the Garden Route displaying a diverse landscape from a largely arid interior to a well-watered lush east. Eastern Cape safaris present incredible wildlife experiences offering a more intimate setting than the popular Kruger National Park and an ideal malaria-free location. The diverse selection of Eastern Cape safaris offers excellent game viewing opportunities with a high population of spectacular wildlife, lush surrounds, and Big 5 sightings. Unlike the reserves of the Kruger, Eastern Cape game reserves are fenced which provides a more controlled environment with no natural migration of game. Therefore, most lodges can tell you exactly how many animals of each species they have at any given time.
With world-class 5-star luxury safari lodges, the Eastern Cape caters not only for luxury lovers but also for adventurists and family safaris in excellent value 3- and 4-star lodges.   The Eastern Cape offers an array of attractions, including 800km (500 mi) of pristine coastline and breath-taking beaches. Easy access to Port Elizabeth Airport makes it a convenient safari destination. If your travel itinerary does not provide for lengthy travel to the Kruger, then head on over to the Eastern Cape reserves for an idyllic combination of beach, bush and beguiling wildlife encounters.
Malaria:
The Eastern Cape is a malaria-free safari area.
Location:
Situated on South Africa's east coast, at the top end of the Garden Route, the Eastern Cape makes for a great ending or starting point when exploring South Africa's southeast coast.
Getting there:
By Road
Eastern Cape reserves are a 60- to 90-minute drive from Port Elizabeth or a 9-hour drive from Cape Town on the N2 highway. Driving from Cape Town takes you through the scenic Garden Route.
Flying
Fly from all major centres in South Africa to Port Elizabeth airport.
Flight Duration
Cape Town to Port Elizabeth: 1 hour 10 minutes
Johannesburg to Port Elizabeth: 1 hour 35 minutes
Durban to Port Elizabeth: 1 hour 20 minutes
Wildlife:
The Eastern Cape is home to one of the largest African elephant populations worldwide. Eastern Cape reserves offer a more intimate setting than the Kruger National Park and are also home to the Big 5. Reserves are fenced providing a more controlled environment with no natural migration of game. Therefore, most reserves can tell you exactly how many animals of each species they have at any given time. Further, you will see giraffe, zebra, varieties of magnificent antelope, hippo, warthog, and hyena to name but a few.
Highlights:
The diverse landscape from a largely arid interior to 800 km (500 miles) of pristine coastline and breath-taking beaches make it a great area for combining a coastal getaway with a Big 5 safari.
Remarkable elephant encounters.
World-class safari lodges.
Reason to go:
Easy access for travellers who don't have time for a long journey to the Kruger but still wish to experience an authentic Big 5 safari in highly populated, malaria-free game reserves.
Fantastic beach and safari combination.
Suitable climate year-round for safari's, game viewing, and coastal visits.
Great for families, honeymoon safaris, small groups, photography enthusiasts, and adventurists.
The Eastern Cape boasts world-class luxury safari experiences.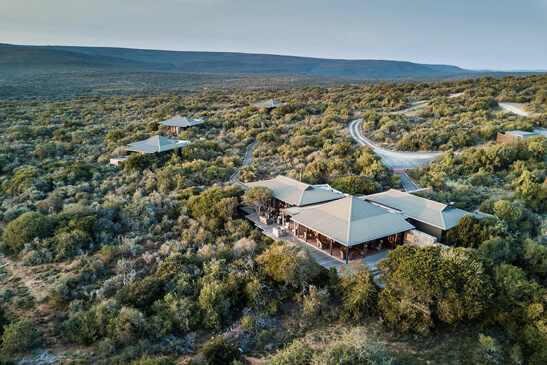 Kwandwe Game Reserve's expanse of untouched wilderness stretches along the Great Fish River, offering you understated luxury in a private wilderness. Ecca Lodge is an intimate retreat overlooking the lush valley below featuring expansive timber viewing decks, and a rim-flow lap pool. The trendy lodge comprises… 6 suites complete with private plunge pools and the finest comforts. Savour world-class hospitality, a variety of activities, as well as outstanding indoor and outdoor dining experiences.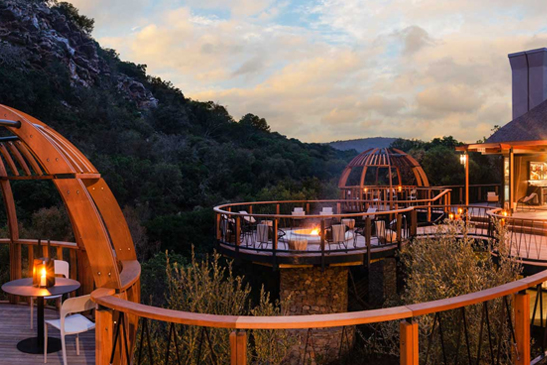 Voted the World's Leading Game Reserve and Conservation Company, Shamwari offers an exclusive Eastern Cape safari experience.  Eagles Crag, with its 9 sophisticated luxury suites, is surrounded by magnificent mountain cliffs, boasts incredible panoramic views, and offers guests a heated outdoor pool… This venue is a true haven of relaxation with a steam room, sauna, fitness facilities, downstairs lounge with billiard table, as well as a splendid upstairs lounge with a bar and fireplace opening onto a viewing deck and aerial pods.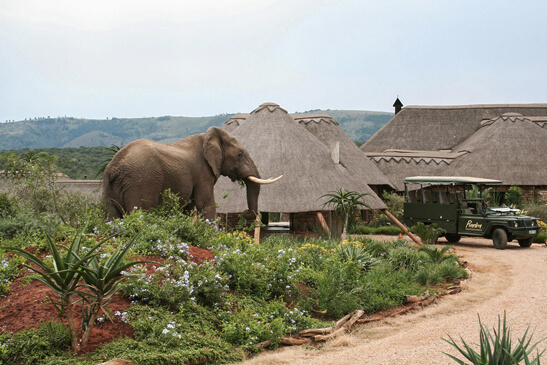 Not only is this Eastern Cape game reserve home to the Big 5, but the rare white lion can also be spotted here.  Msenge Bush Lodge chalets are an indulgent immersion into the serenity of the bushveld, laced with life's luxuries and dreamy comforts. Private game-viewing decks overlook the waterhole where wildlife frequent… Soak in spectacular mountain views from your private plunge pool and outdoor shower and enjoy extraordinary service, hospitality, and 5-course dinners under a canopy of stars.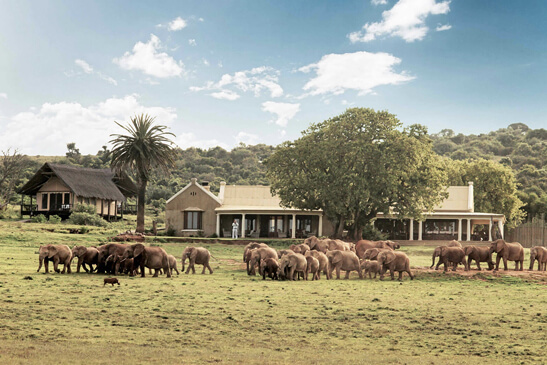 Africa's largest land mammal remains the highlight at the luxury 5-star Gorah Elephant Camp in Addo Elephant Park. The intimate reserve, boasting modern sophistication intertwined with sentimental elegance features 11 private tented suites. With private viewing decks over panoramic views… of savannah plains, guest privacy and environmental consciousness lie at the forefront of the Gorah offering. Warm hospitality and superb cuisine make for an extravagant experience with enchanting views reflecting a romantic era of wild exploration.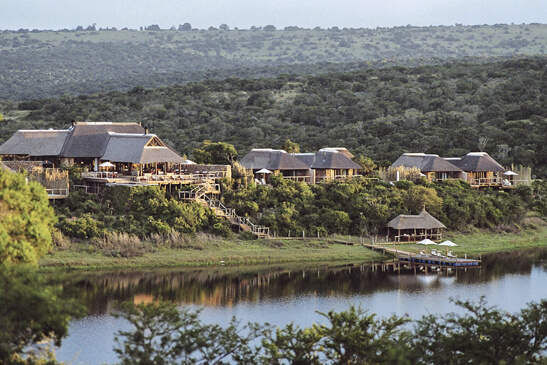 With exceptional year-round game viewing, Pumba Game Reserve offers an exclusive, high-end Eastern Cape safari encounter. Not only is the reserve home to the Big 5, but the rare white lion can also be spotted here. Overlooking Lake Cariega, Pumba Water Lodge consists of 12 stone-walled, thatch chalets interlinked… by winding wooden footpaths through the bushveld. The Water Lodge offers 3-course lunches, 5-course dinners, and lavish 5-star accommodation with private plunge pools, indulgent bathrooms, and cozy fireplaces.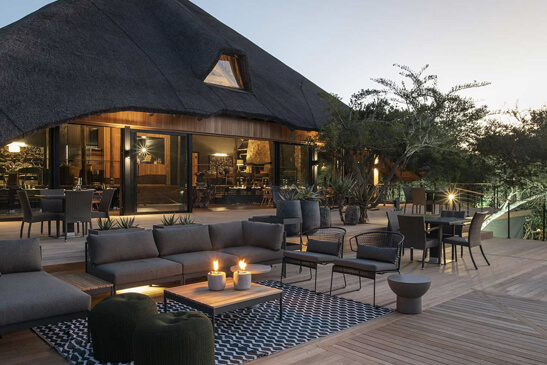 Voted the World's Leading Safari and Game Reserve, Shamwari offers an exclusive Eastern Cape safari experience.  Bayethe exudes relaxation and luxury with its offering of 12 luxury tents and delectable cuisine.  Each tent boasts an in-room fireplace, private plunge pool, bathroom with tub, outdoor shower… and secluded deck. Bayethe's tented paradise offers privacy and tranquillity with spectacular views of the African bush. Enjoy spa treatments, bush walks, game drives, birding, as well as conservation and rehabilitation centre visits.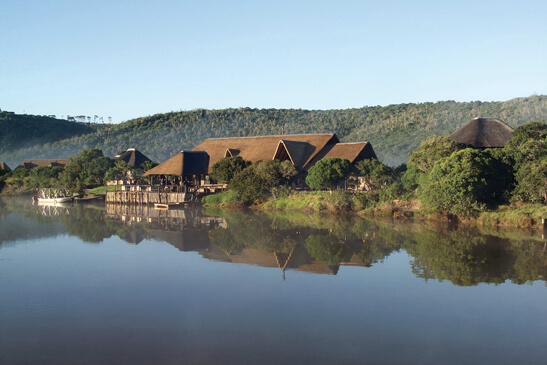 Kariega Game Reserve is set across two beautiful rivers which lead to the ocean by boat.  The unique setting allows guests to enjoy a safari boat cruise, canoeing, and guided bush walks. The 10 luxurious suites at River Lodge are one-of-a-kind. Each superior unit features a private viewing deck, offering the perfect setting… for those seeking a tranquil getaway. Enjoy magnificent main deck views and a glorious refreshing pool. River Lodge offers guests a courtesy daily boat ferry to picturesque nearby beaches.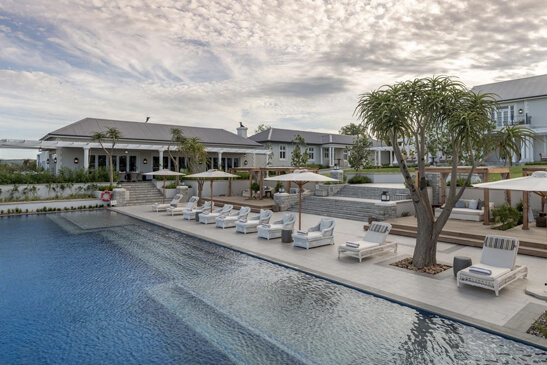 Voted the World's Leading Safari Game Reserve and Conservation Company, Shamwari offers an exclusive Eastern Cape safari experience.  The newly renovated Long Lee Manor exudes romantic elegance with Edwardian style décor and a rim-flow pool. Seventeen luxury en-suite rooms all feature either a balcony… or veranda with views over magnificent wild landscapes. A Family Suite with 2 bedrooms and a private plunge pool is also available. The lodge provides superb facilities with a spa, gym and outdoor boma overlooking a waterhole.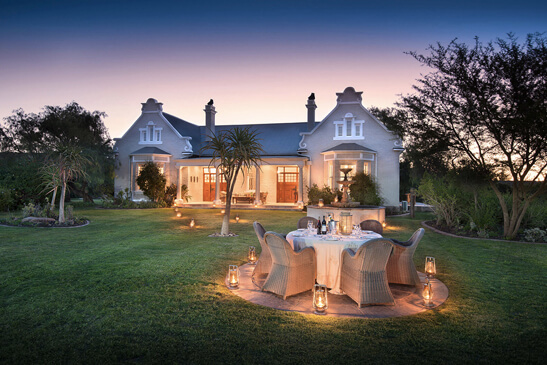 Renowned for excellent safari's, opulence, and a vast display of wildlife, Kwandwe offers 3 secluded safari villas ideal for small groups and families.  The exquisite surroundings are complemented with a generous service by your personal chef, butler, and game ranger with a private safari vehicle… , offering a completely personalized itinerary for daily game drives, nature walks, big game walking safaris, and fishing. Each fully-equipped luxury villa features a private swimming pool and relaxation deck with sweeping views of wild African plains.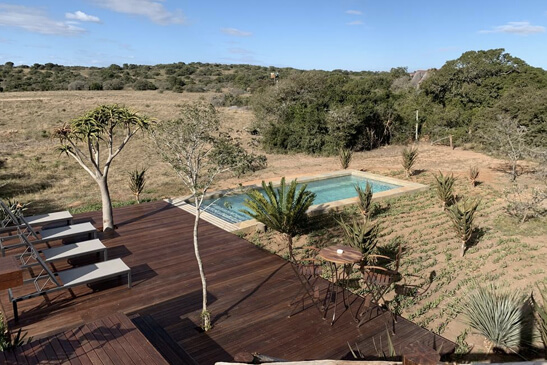 Amakhala five-star Bush Lodge consists of eight luxury tented-suites ensuring serenity, privacy, and excellent service with attention to every detail.  Luxury tents blend effortlessly into the surrounds with thatch roofs, canvas walls, a private viewing deck, and plunge pool. The Bush Lodge overlooks an open… valley watering point providing game viewing opportunities even when relaxing at your suite.  This is the perfect place for you if you want an authentic bush retreat without foregoing any of life's luxuries.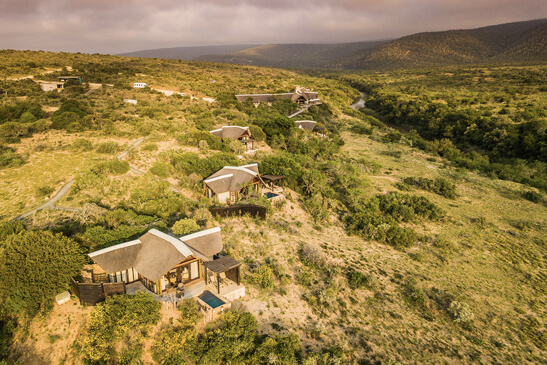 Renowned for excellent safari's, opulence, and a vast display of wildlife, Kwandwe offers boundless safari activities within its spectacular scenic location.  Great Fish River Lodge is all about tranquillity boasting a classic yet contemporary design with high terraced decks overlooking the river… Nine en-suite units feature floor-to-ceiling framed glass doors, viewing decks and private plunge pools shaded by a thatched terrace. Catch magnificent sunsets from your private haven of luxury and enjoy a celebration of African cuisine next to crackling fires.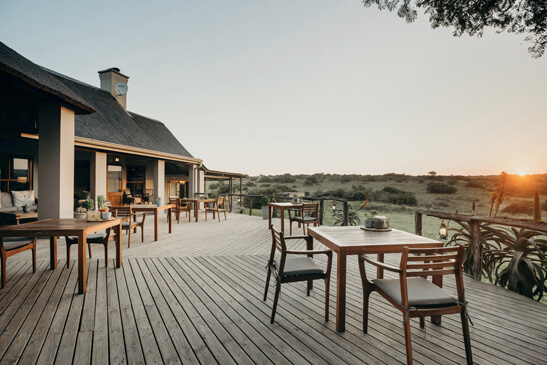 Hlosi Game Lodge is the perfect place for family safari holidays or those who prefer to experience the wild, without forgoing life's luxuries.  With six suites and 8 luxury safari tents, Hlosi offers a unique and intimate Eastern Cape safari with personal game viewing experiences. The lodges elegant lounge is a sophisticated space… for relaxation, while the dining area, bar, and pool overlook a waterhole frequented by game.  Units are all en-suite offering private verandas with magnificent open views.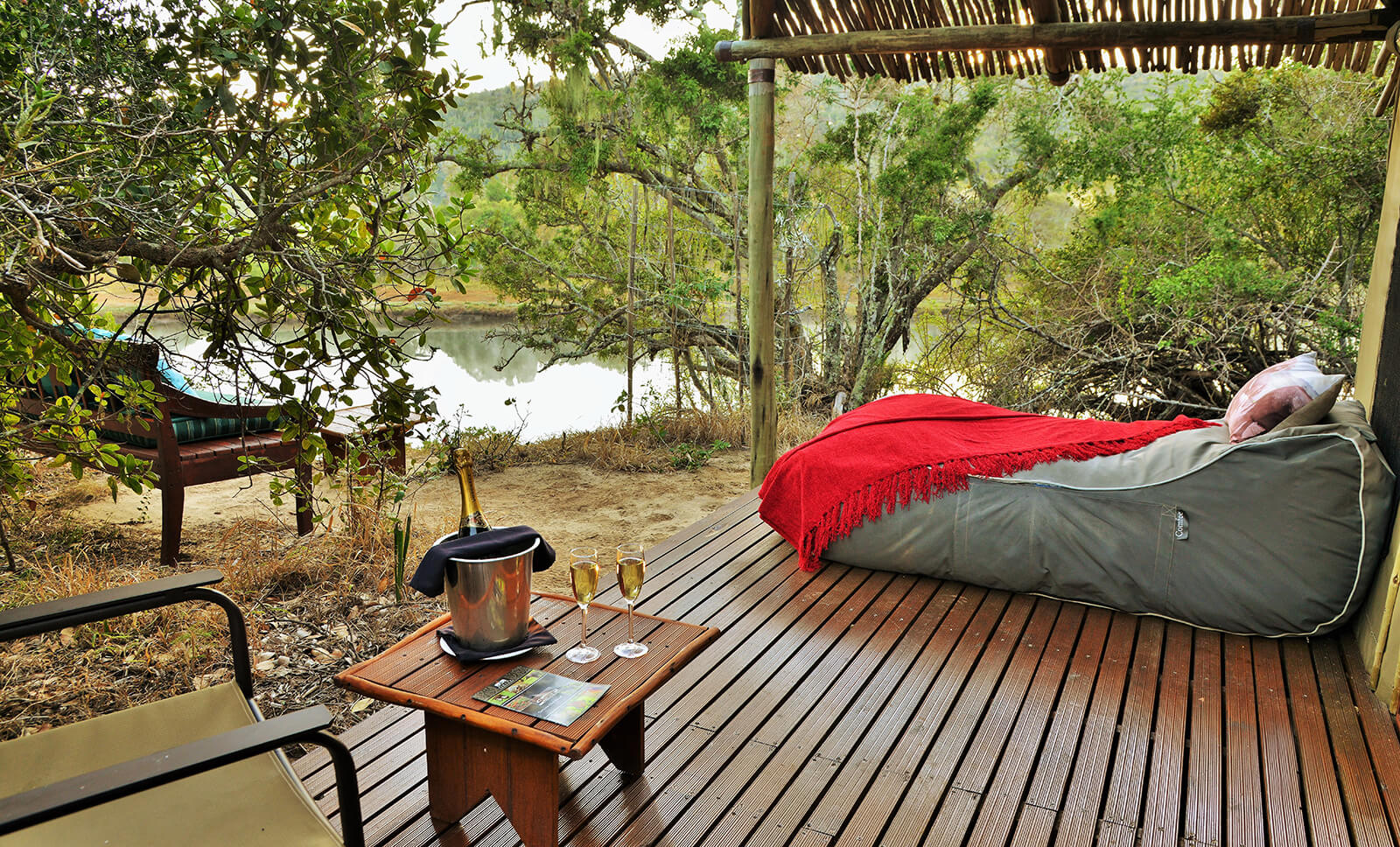 Superbly perched on the banks of the Kariega River Estuary, Forest Camp's 8 luxury tents are tucked into the indigenous bush.  Secluded and intimate, personal attention and world-class hospitality are guaranteed. Each tent has a full bathroom and comfortable living space with a fireplace… Run almost entirely by solar power, this getaway offers a true submersion into the essence of the wild. With beautiful river and forest landscapes, guests can enjoy the nature around them in a host of exciting activities.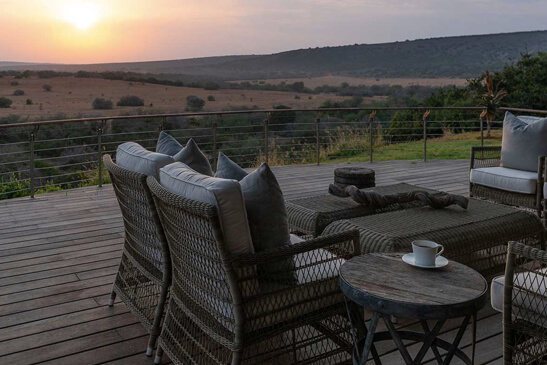 The intimate and luxurious Sarili Private Lodge consists of 5 suites for a small group or family, boasting world-class hospitality, personal service and attention to detail. Personal staff including a house manager, private chef, and personal game ranger are at your service to tailor-make your stay. Uninterrupted views are a star… feature of this family-friendly oasis. The lodge features in-room spa treatments, a stunning lounge and fireplace, a swimming pool, and an extensive deck over-looking the Bushman's River.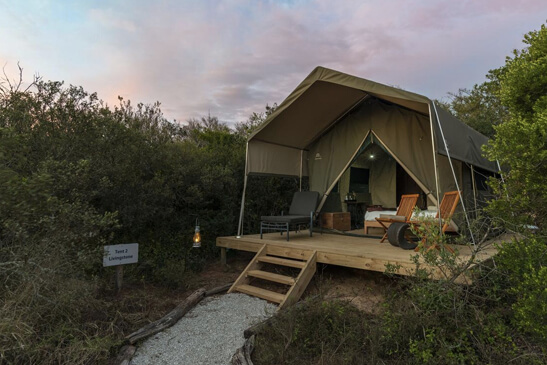 For the adventurous at heart who are not too concerned about life's luxuries, indulge yourself in the essence of nature in this authentic, off the grid African bush experience. The walking safari is a 2-3-night expedition available seasonally from October to May. Three tents are located in a magical bush setting and facilities… include a viewing deck, plunge pool, and dining lounge. Wake up to coffee served in front of your tent and enjoy culinary campfire feasts under the stars.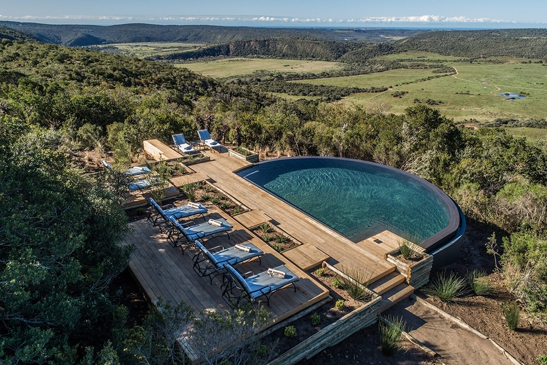 Kariega Game Reserve is set across two rivers allowing guests to enjoy safari boat cruises, canoeing, and guided bush walks. The romantic gem of Kariega is found here on the valley edge, with 10 luxury suites overlooking majestic views of the African landscape. Eco-friendly suites are crafted from stone, wood, and glass… , each boasting a private plunge pool and viewing deck. Ukhozi Lodge hosts an outstanding restaurant with delicious African cuisine, multiple relaxation lounges with fireplaces and an exquisite rim-flow pool.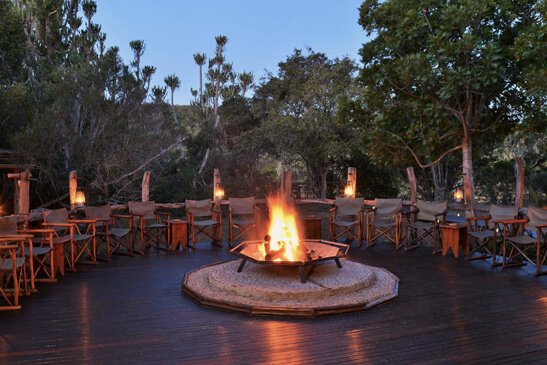 Tucked in a scenic indigenous forest, this eco-minded camp manages to immerse guests into the wonder of nature without compromising comfort.  This four-star eco-camp overlooks the banks of the Kariega River from secluded timber decks. The camp consists of luxury tents all including a full bathroom… and comfortable living space, run almost entirely by solar power. Dinners are a scrumptious African style buffet hosted in the boma or on one of the expansive decks under glistening African skies.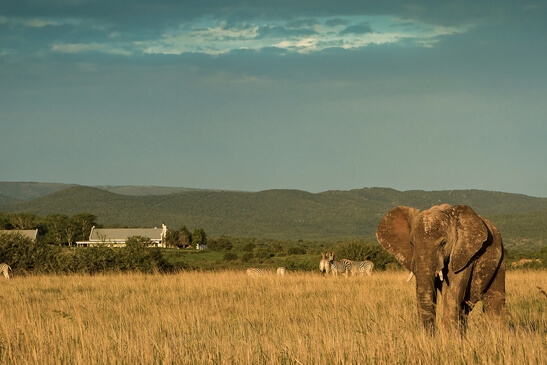 Reflecting farmhouse charm and elegance, River Bend Lodge has eight luxury stand-alone suites offering an exclusive private retreat.  The tranquillity of the lodge setting makes it the perfect place to destress and unwind. Lush gardens, a swimming pool, and a spa provide a haven of relaxation… For those seeking a bit more adventurous activity, elephant rides can be arranged as well as horseback riding, cultural and historical excursions. With plenty of exciting activities for kids, the lodge is ideal for family safaris.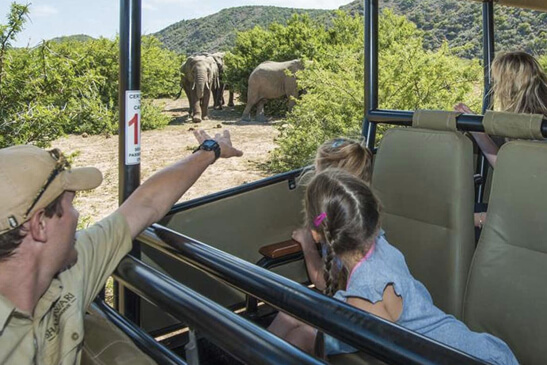 The newly renovated Riverdene Lodge boasts a fantastic family-friendly Eastern Cape safari experience at the award-winning Shamwari Game Reserve. The lodge features nine inter-leading rooms with bathtub and shower amenities as well as a private patio.  Riverdene offers exciting activities for kids… at the Adventure Centre and a glorious pool with a shallow swimming area for children. A boma overlooking the beautiful Bushman's River is the perfect place to sip on a sundowner and marvel at magnificent African landscapes.
Can't Find What You Looking For?
Visiting such a diverse country necessitates some expertise to determine which area, lodge and transport will suit you best. Whether you are a family, couple or traveling solo, we'll guide you to the perfect place for an incredible safari experience

Helpful Guides & Articles
Let's start planning
Have Any Questions? Contact Us!