Safaris in Sabi Sands
Sabi Sands is a 65 000-hectare private game reserve within the south-western section of the Greater Kruger and further houses a selection private game reserves which are known to be the most exclusive in the country. Sabi Sands is privately owned and managed and in contradiction to the publicly accessible Kruger National Park, only guests staying at the selection of Sabi Sands lodges are permitted to access the reserve.  Given its exclusivity, you can be guaranteed uncrowded safari encounters.  Here one can experience night drives, guided bush walks, and off-road game drives which are otherwise not permitted in the Kruger Park. The game drives are ranked some of the best in Africa and are guided by a ranger as well as Shangaan tracker.  Together they use their advanced tracking and driving skills to get you through the complicated terrain for close-up wildlife sightings. Some of the operators choose to share their borders and co-operate with their neighbours to maximize the game viewing opportunities. Mala Mala is the only game reserve in Sabi Sands that does not share its borders with the other private game reserves, guaranteeing complete exclusivity.
Sabi Sands Game Reserve is the crème de la crème of game reserves and offers exceptionally high standards, ultimate luxury, and excellent year-round game viewing.  Lodges here are a world-class combination of opulent glamour and African authenticity.
Malaria:
Sabi Sands is a malaria area.
Location:
Sabi Sands is a 65 000-hectare private game reserve in South Africa's far north-eastern corner. The private reserve forms part of the Greater Kruger, sharing unfenced borders with the Kruger National Park.
Getting There:
By Road
The Sabi Sands is a 5- to 6-hour drive from Johannesburg mostly on the N12 and N4 highway. Transfer times from local airports may vary but are generally expected around 2-hours drive from Kruger Mpumalanga Airport, or a 45-minute drive from Skukuza Airport.
Flying
Fly from major centres in South Africa to Skukuza or Kruger Mpumalanga airport. Alternatively, take a private charter flight to selected reserves.
Flight Duration
Johannesburg to Skukuza: 50 minutes
Cape Town to Skukuza: 2 hours 30 minutes
Durban to Kruger Mpumalanga: 1 hour 15 minutes
Johannesburg to Kruger Mpumalanga: 45 minutes
Cape Town to Kruger Mpumalanga: 2 hours 20 minutes
Wildlife:
Sabi Sands boasts exclusive Big 5 game viewing with a remarkable wildlife population. The game drives are ranked some of the best in Africa and are guided by a ranger as well as Shangaan tracker. Excellent leopard and big cat sightings as well as rhino, hippo, rare wild dog, hyena, giraffe, and a large variety of antelope.
Highlights:
Night game drives, guided bush walks, and off-road game drives.
Sabi Sands houses a selection of private game reserves which are known to be the most exclusive in the country.
Romantic tree-house sleep outs.
Reason to go:
Ideal for families, groups of friends, and honeymooners, as well as conservation activists and keen photographers.
Authentic remote African safaris with incredible wildlife and Big 5 sightings.
World-class luxury accommodation and luxury safari tents.
Great year-round weather for safari holidays.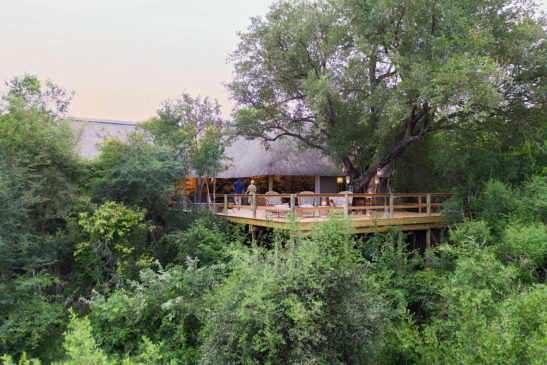 Pioneer camp is the most secluded of the Londolozi offering making it an ideal choice for luxury honeymoon safaris. Three delightfully romantic suites are set among age-old ebony trees, styled with a combination of historic charm and indulgent modern comfort. Floor to ceiling glass windows provide… magnificent bush views from each suite. Each suite features a private viewing deck with a plunge pool, loungers, and outdoor dining area.  Pioneer camp is adaptable to families with glass walkways linking interconnected luxury family suites.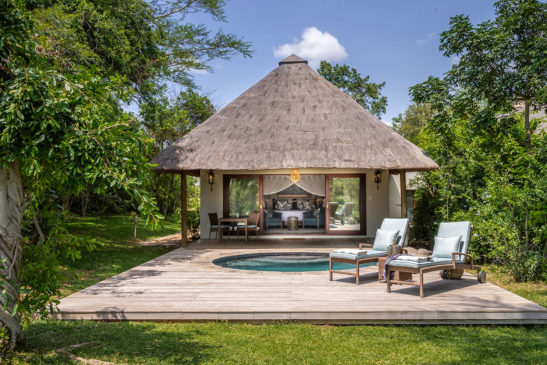 This intimate 5-star lodge offers an authentic safari experience in tented suites without foregoing any of life's luxuries. All suites are equipped with private viewing decks and plunge pools. Dining at Savanna Game Reserve is an experience in itself with fantastic African barbecues around a blazing fire in the… open-air 'boma' or intimate candle-lit dinners in a remote bush setting.  Besides exhilarating safari activities, guests can enjoy pampering spa treatments, a Shangaan village tour, golf, and an on-site gym.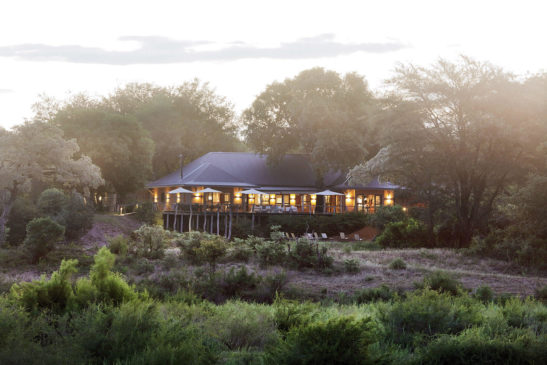 With six river view luxury suites and one waterhole view suite, Mala Mala Sable Camp offers an intimate and secluded safari experience. Sable Camp lies on the southern end of the Main Camp in a beautifully elevated position overlooking the Sand River and surrounding bushveld… Units boast indulgent en-suite bathrooms with outdoor showers, and private decks with splendid bush views. An impressive lounge, air-conditioned dining room, cozy bar, library, fitness facility, and swimming pool provide a great space for relaxation.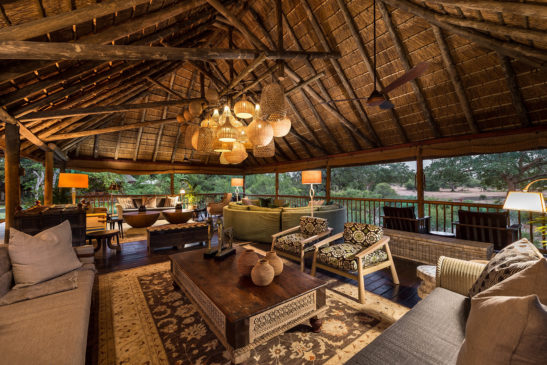 Bush Lodge is an oasis of relaxation with two swimming pools and large covered viewing decks overhanging the Msuthlu riverbed. A large and sumptuous lounge area, atrium, and intimate bar make for relaxing social spaces while the Amani Spa offers the ultimate African spa respite. Bush Lodge boasts 25 indulgent suites… featuring unique glass-fronted showers, with enchanting bushveld views. Sabi Sabi Bush Lodge also presents two spacious Luxury Villas and a Deluxe Suite featuring each with a private plunge pool.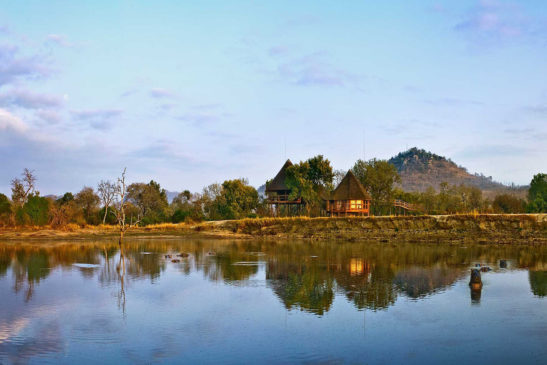 Perched amidst a canopy of trees with exceptional views, Ulusaba Safari Lodge consists of eleven luxurious suites, accessed by swing bridges and raised walkways, heightening the sense of an African bushveld adventure.  Lodge facilities include a sparkling swimming pool, fitness centre, a wine cellar… , and relaxing spa. Besides traversing the land on a safari drive, Safari Lodge allows you to explore nature en-foot on a guided bushwalk, enjoy stargazing, birdwatching, community tours, and candle-lit dinners under the Milky Way.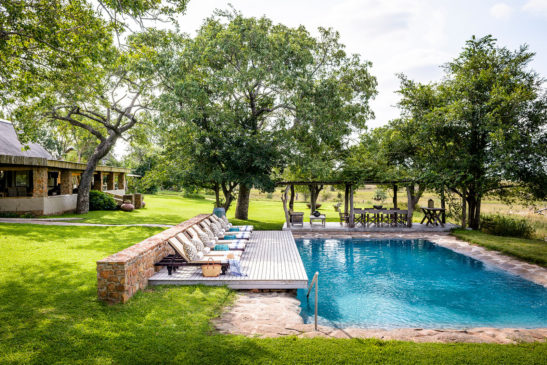 Singita Castleton comprises a main house, with communal living spaces, and six individual cottages hosting up to 12 guests. Luxury living at Castleton is managed by a private staff complement of house manager, chef, housekeeper, safari guide, and tracker. A large veranda and pool on the front lawn… overlook a waterhole frequented by game and a host of fun on-site activities are available. Dining is a celebration under the stars in the outdoor boma, or on the deck with scenic landscape views.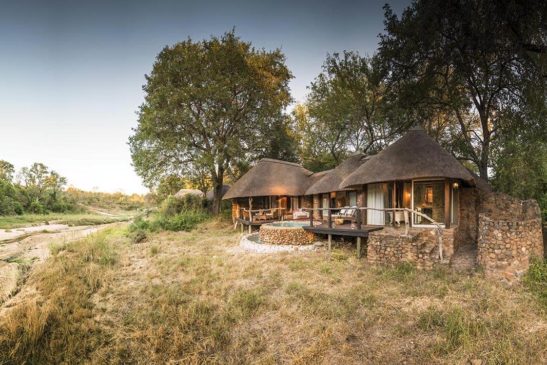 With incredible Big 5 game viewing, comes superb accommodation.  Dulini Lodge offers six beautifully thatched suites overlooking the banks of a riverbed. Each luxurious unit features a private plunge pool and viewing deck perfect for relaxed wildlife viewing and magnificent sunsets… Elegant interiors include draped mosquito netting, a fireplace, and luxurious bathrooms. An intimate setting with meticulous attention to detail, exceptional cuisine, warm hospitality, and contemporary comfort makes Dulini Main Lodge the perfect haven for a luxury African safari.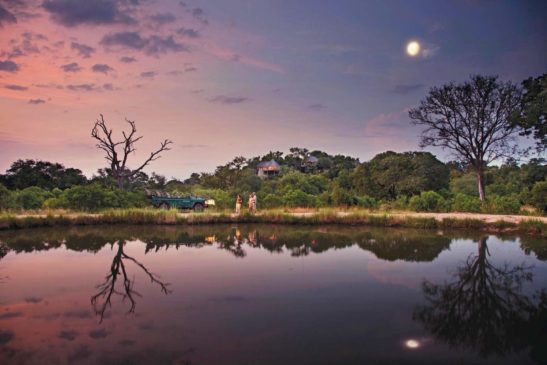 Built on a hill looking over the bushveld, Leopard Hills is host to eight opulent glass-fronted suites. Each unit is decorated with utmost class and style, complete with a private deck and plunge pool from which to enjoy expansive views. Romantic bathrooms feature indoor and outdoor showers with gorgeous vistas…. Unwind at the on-site spa, enjoy a workout in the gym, soak in magnificent views from the open-air deck and swimming pool, and feast on superb cuisine in the boma.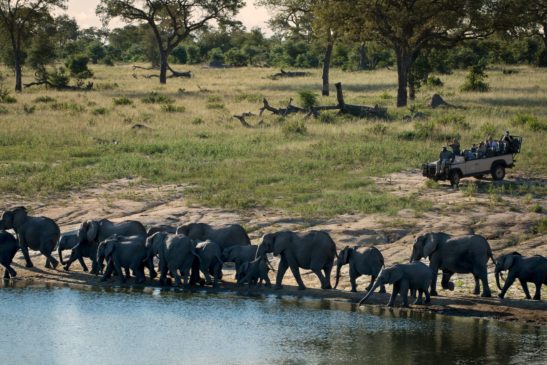 Tailored to your every whim, Chitwa House offers an opulent exclusive bush experience with the assistance of a dedicated house butler and personal chef. This unit is a luxurious treasure in a glorious natural oasis. Big 5 safari drives in your private safari vehicle with a guide and a tracker are tailored to… your desired schedule. The villa consists of two en-suite rooms with private decks, a chic lounge, dining area, and a lake-view timber deck with a swimming pool.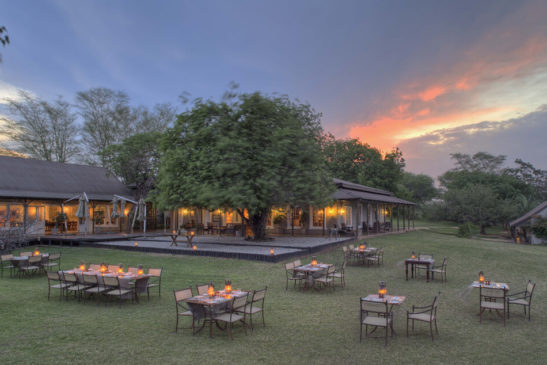 Set high on a ridge overlooking the Sands River, Kirkman's Kamp features a spectacular infinity-edge swimming pool with expansive bushveld views, an open-air dining boma, inviting lounge, and offers a fun-filled kids program.  Twelve luxurious vintage-style cottages boast modern amenities, fireplaces… , private verandas, and bushveld views. With its welcoming family atmosphere, guests can enjoy nature walks, photography lessons, birdwatching, stargazing, private and photographic safaris, and a game of tennis. Superb service and delightful dining top off an all-round magnificent luxury safari.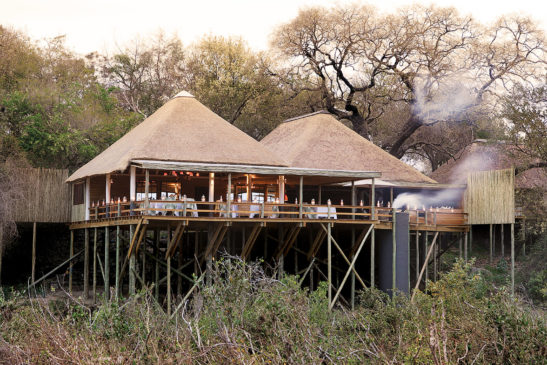 The luxury Founders Camp is an enchanting and intimate retreat comprising 10 Superior Chalets with thatch and natural elements as the core features. A yoga deck provides a unique space where guests can enjoy a meditation class in the arms of grandeur ebony trees. The camp is child-friendly with features including… private viewing decks, alfresco showers, a bathtub with bush views, and eco-chic interiors.  Founders Camp offers guests world-class indoor and outdoor dining, village visits, jogging trails, and guided bushwalks.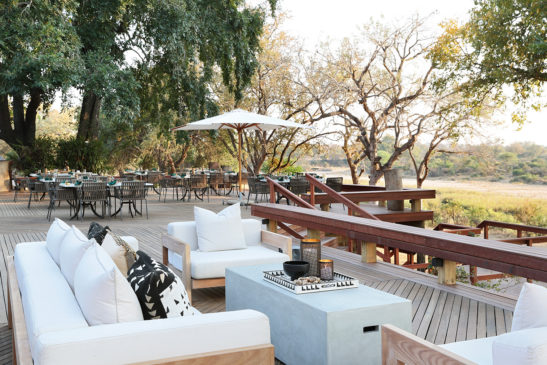 Main Camp is an unfenced oasis in the middle of the bush where comfort, style, history, nature, and modern art merge seamlessly. The camp comprises 19 luxury suites and unrivalled views of the Sand River. Units all feature en-suite bathrooms and private verandas with spectacular wildlife scenery… . Enjoy an infinity pool with spectacular view, a fitness centre, massage service, and delectable cuisine served under starlit skies, or in the enclosed dining room. Interleading family rooms and babysitting services are also available.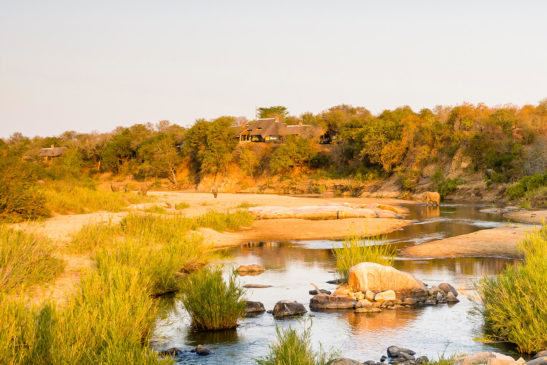 Singita Ebony Lodge comprises 12 luxurious suites boasting suspended timber decks with magnificent views. Glass and canvas walls optimize the feeling of being in the bush yet exude comfort and tranquillity. Two family suites include a dining area, lounge with a stone fireplace, and a private viewing deck… with a heated plunge pool. The lodge is also home to a villa with private pool and viewing deck. The Villa offers exclusive living with a private safari guide, chef, butler, and villa host.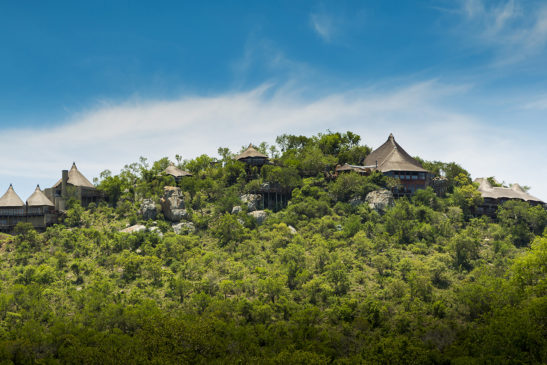 Situated on a hilltop with panoramic views, Ulusaba Rock Lodge offers ten luxurious rooms ensuring an exclusive and uncrowded safari getaway. All rooms include a private viewing deck, while three of the luxury suites offer exclusive use plunge pools. Stylishly decorated, African art is beautifully combined… with contemporary elegance. Dining is spectacular with world-class chefs creating delicious culinary masterpieces from candle-lit dinners under the Milky Way to traditional barbecues in the boma.  Also enjoy stargazing, community tours, and bushwalks.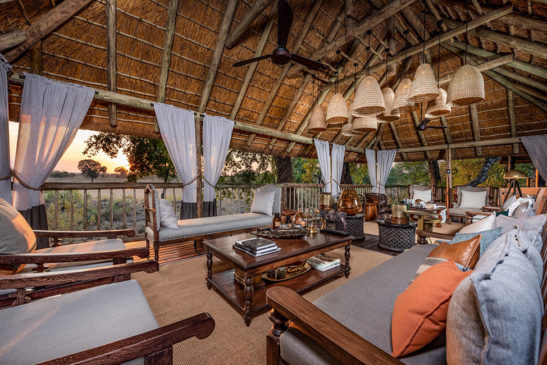 Selati Camp is a romantic reflection of antiquities boasting seven thatched suites adorned with vintage finishes and lanterns lighting up the camp pathways after sunset. Selati Camp is home to a beautiful honeymoon suite for spectacular special occasions and a Presidential Suite boasts the crème… de la crème of extraordinary wildlife retreats. With delectable gourmet cuisine, a gym, relaxing spa, swimming pool, viewing deck, community tours, bush walks, and night safari drives, Selati Camp offers an exceptional Sabi Sands safari experience.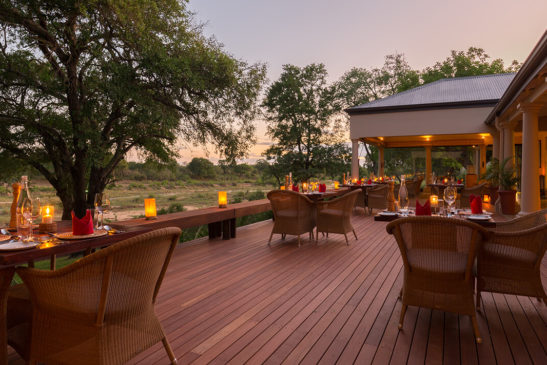 Nestled in the forest on the banks of the Sand River, lies Mala Mala Rattray's Camp eight luxurious suites, exuding elegance and refinement. Each freestanding unit features scenic views of the Sand River where wildlife gather to drink. Private verandas with plunge pools offer exclusive relaxation… . Relish a private outdoor and indoor dining area, enjoy a massage, and keep fit in the on-site fitness centre. With intimate game drives, world-class cuisine, and exceptional hospitality, an unforgettable wildlife adventure awaits.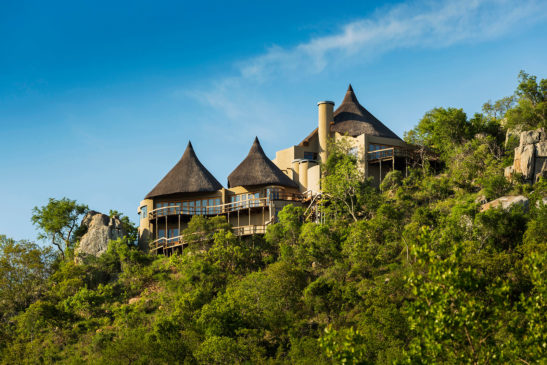 Cliff Lodge is home to two opulent suites offering guests the ultimate in safari luxury. On exclusive-use booking, Cliff Lodge provides a personal chef and private vehicle for game drives as well as access to a private gym and spa treatment room. Accommodating a maximum of five adults and four children, the units comprise… a two-bedroom suite and separate one-bedroom suite both with a lounge, fireplace, viewing deck, and plunge pool. Private game drives offer guests exclusive sightings and photographic opportunities.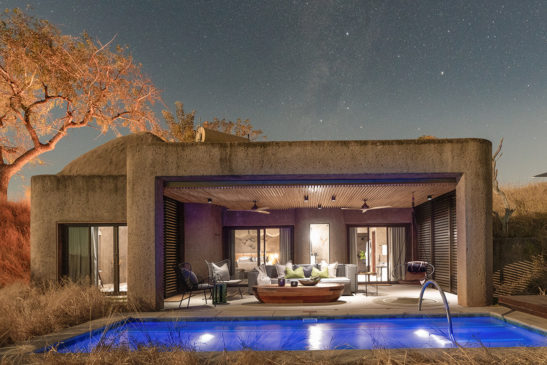 Sabi Sabi boasts award-winning facilities and unforgettable wildlife experiences.  Home to 13 ultra-luxurious suites, Earth Lodge is a masterpiece of rustic elegance and harmony with nature. Enchanting walls sculpted from tree roots capture the dramatic power of the wilderness, transporting guests… effortlessly into a natural fairy tale. Evenings are spent around crackling fires sipping fines wines. A secluded library, meditation garden, gym, and holistic body, skin, and beauty treatments at the Amani Spa make for a superbly luxurious safari getaway.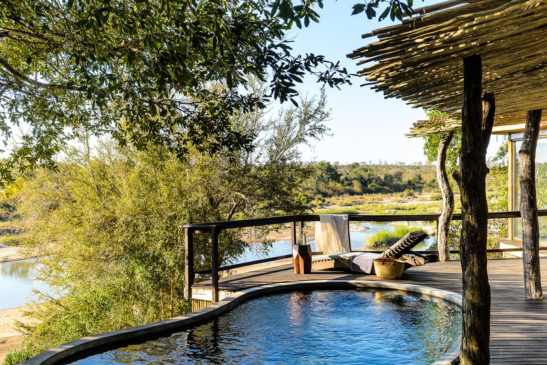 Singita Sabi Sand is renowned for high concentrations of big game and frequent leopard sightings. Boulders Lodge boasts 12 magnificent glass-fronted suites, expansive viewing decks, and walkways making for a luxurious immersion into the natural surroundings. Effortlessly combining contemporary… opulence with rustic organic materials, Boulders Lodge suites feature a fireplace, en-suite bedroom, private veranda with secluded plunge pool, outdoor shower, and private lounge area. The lodge also caters to families with children older than 10 years in 2 family suites.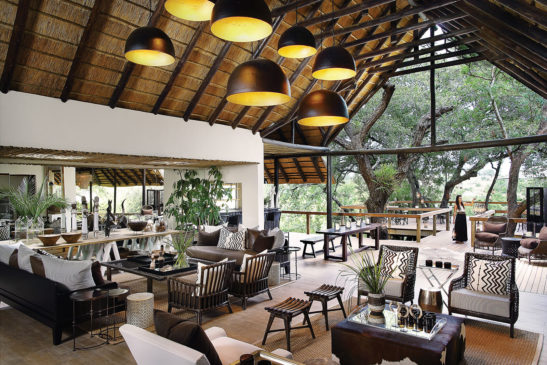 Londolozi Tree Camp boasts an exquisite blend of eco-luxury and modern sophistication for guests 16 years and older.  Tree Camp features six luxurious suites offering a private haven of relaxation and world-class design.  Each unit has a secluded jacuzzi or plunge pool, private deck, and bathtub with extraordinary views… .Covered decks with bush and forest views extend through treetops passing by elevated walkways.  World-class dining at Londolozi is an experience in itself around a traditional fireside banquet in a beautiful outdoor setting.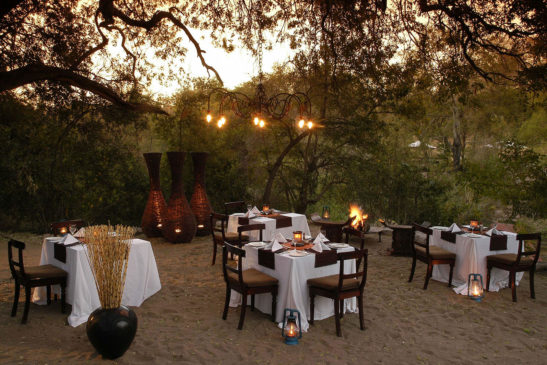 Little Bush Camp boasts a setting of executive opulence and African art combined with organic décor and eco elements.  Six indulgent suites offer the ideal Sabi Sands safari accommodation for families, friends, or small groups each with its own viewing deck and heated spa bath overlooking the riverbed… .  A gorgeous swimming pool, starlight dining in the boma around crackling fires, guided walking safaris, community tours, photographic safaris, and night-time game drives make this an unforgettable wildlife destination.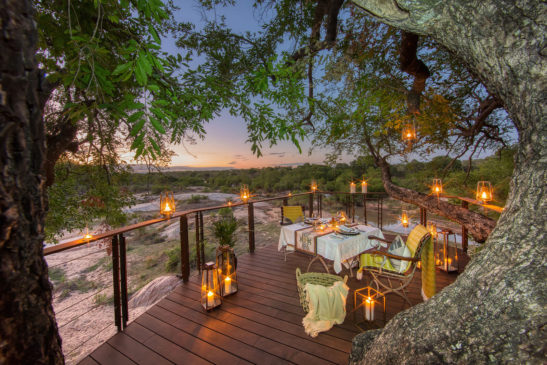 Leadwood Lodge boasts four exclusive suites offering the ultimate in luxury safari seclusion and serenity. The lodge combines opulence and contemporary elegance with touches of African extravagance. The private suites scattered along the riverbed have plunge pools, fireplaces, and private viewing decks making… game viewing possible without even having to leave your suite. Evening dining is a fairy-tale experience in the outdoor boma with lanterns and crackling fires shimmering below starry skies. Enjoy superb game drives, magnificent views, and warm hospitality.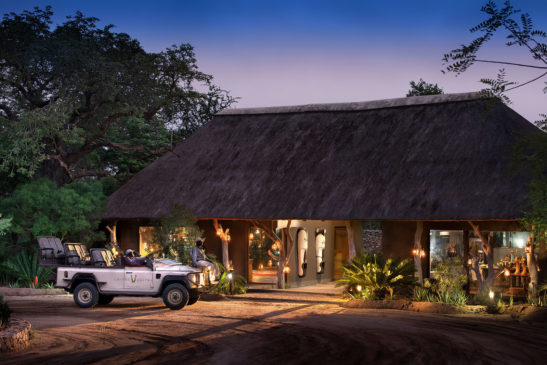 Chitwa Chitwa welcomes you to a magical sensory experience in the African wilderness. The Main Lodge offers 6 exquisite suites shaded by old Knobthorn trees each with a private lounging deck, a plunge pool, and spectacular lake views providing superb game viewing as groups of wildlife… are drawn to the water's edge. Enjoy the gym, spa, sunset deck, cultural village tours, and spectacular dining.  Luxury Suites can accommodate extra beds for children under the age of 12 years.
Varty Camp comprises 8 Chalets and 2 Superior Chalets with a camp design of brick paths, dolerite rock walls, and waterfalls. With a family heritage emphasis, Varty Camp is the base of the overall Londolozi guest activities including the fitness centre, boutique, photographic studio, kids club, and incredible… Healing House Spa, embracing the essence of wellness inspired by nature.  Each suite features a private swimming pool and outdoor dining sala, edged by raised timber decks and shade of the riverine forest.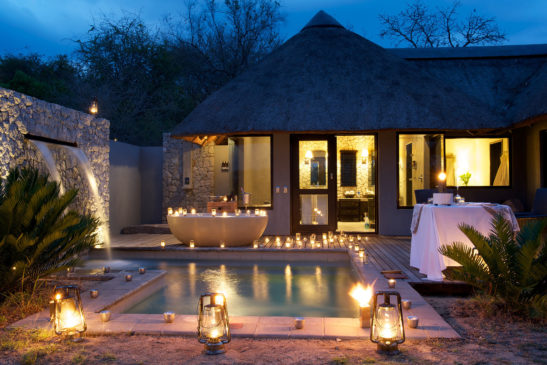 Placed among the world's top luxury destinations, Londolozi is an indulgent haven of opulence and tranquillity.  Situated on the banks of the Sands River, the three opulent Granite Suites boast contemporary design integrating eco-chic features with stone walls and timber finishes… . Each suite features a spacious bedroom, lounge, outdoor shower, and bathtub with a magnificent river view. Guests can enjoy an outdoor heated plunge pool with remarkable river views, indulgent high-tea, traditional fireside banquets, or a private dinner under the stars.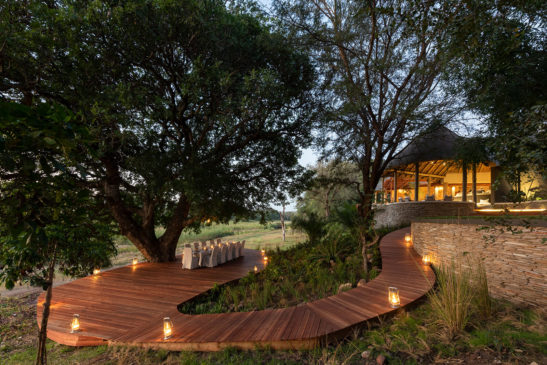 River Lodge boasts eight intimate and exquisite suites offering riverside views and wildlife sightings from private decks.  Spacious interiors boast extravagant bathrooms with deep tubs and alfresco showers, combining touches of African tradition with classic old-world charm.  When not relaxing in your… private plunge pool enjoy the comfort of the communal lounge, expansive viewing deck, guided bushwalks and remarkable dinners in the boma.  Fine attention to detail and personal service truly makes Dulini a place of comfort, and luxurious relaxation.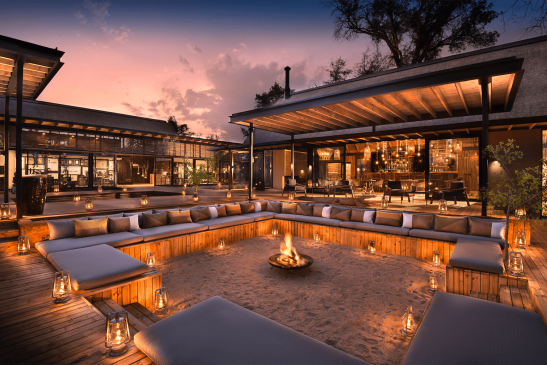 Perched amidst a canopy of trees with exceptional views, Ulusaba Safari Lodge consists of eleven luxurious suites, accessed by swing bridges and raised walkways, heightening the sense of an African bushveld adventure. Lodge facilities include a sparkling swimming pool, fitness centre, a wine cellar, and relaxing spa.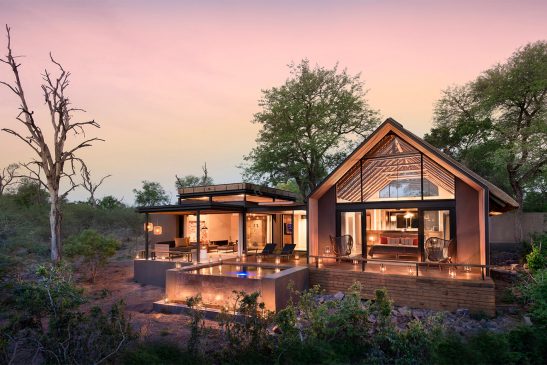 Perched amidst a canopy of trees with exceptional views, Ulusaba Safari Lodge consists of eleven luxurious suites, accessed by swing bridges and raised walkways, heightening the sense of an African bushveld adventure. Lodge facilities include a sparkling swimming pool, fitness centre, a wine cellar, and relaxing spa. Safari Lodge is home to one Treehouse Suite for guests seeking luxurious seclusion, while other suites boast views overlooking the local watering hole where wildlife gather to drink.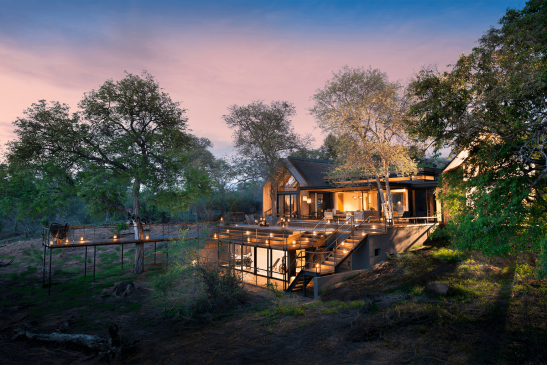 Perched amidst a canopy of trees with exceptional views, Ulusaba Safari Lodge consists of eleven luxurious suites, accessed by swing bridges and raised walkways, heightening the sense of an African bushveld adventure. Lodge facilities include a sparkling swimming pool, fitness centre, a wine cellar, and relaxing spa.
Can't Find What You Looking For?
Visiting such a diverse country necessitates some expertise to determine which area, lodge and transport will suit you best. Whether you are a family, couple or traveling solo, we'll guide you to the perfect place for an incredible safari experience

Helpful Guides & Articles
Let's start planning
Have Any Questions? Contact Us!