The Kruger National Park comprises nearly 2 million hectares of land known to have the highest population density of the Big 5 in South Africa. If an authentic African safari is what you are after, this is the place to be. With incredible wildlife experiences, immaculate accommodation, and world-class cuisine, you can't go wrong with a Kruger National Park safari in South Africa.
Traveling to the Kruger National Park
Set in the far north-east of South Africa, the Kruger National Park is not by any means a drive-by destination but with a little planning, we'll get you there with ease.
The best way to travel to the Kruger National Park is to fly to Hoedspruit Airport and then take a short raod transfer to your destination. Flight times are designed to connect with international flights to and from Europe and other major centres around the world. The flight time from Johannesburg to Hoedspruit is 55 minutes and the flight time form Cape Town to Hoedspruit 2 hours 30 minutes. Flights can be booked at Airlink which is our most recommended operator.
Alternatively, scheduled charter flights form Johannesberg to the Kruger National Park lodges will take you directly to private reserve landing strips. Although more costly, this is a time-saving way to travel providing an exclusive and authentic travel experience.
Road transfers or self drive from Johannesburg to the Kruger National park are a 6-hour drive.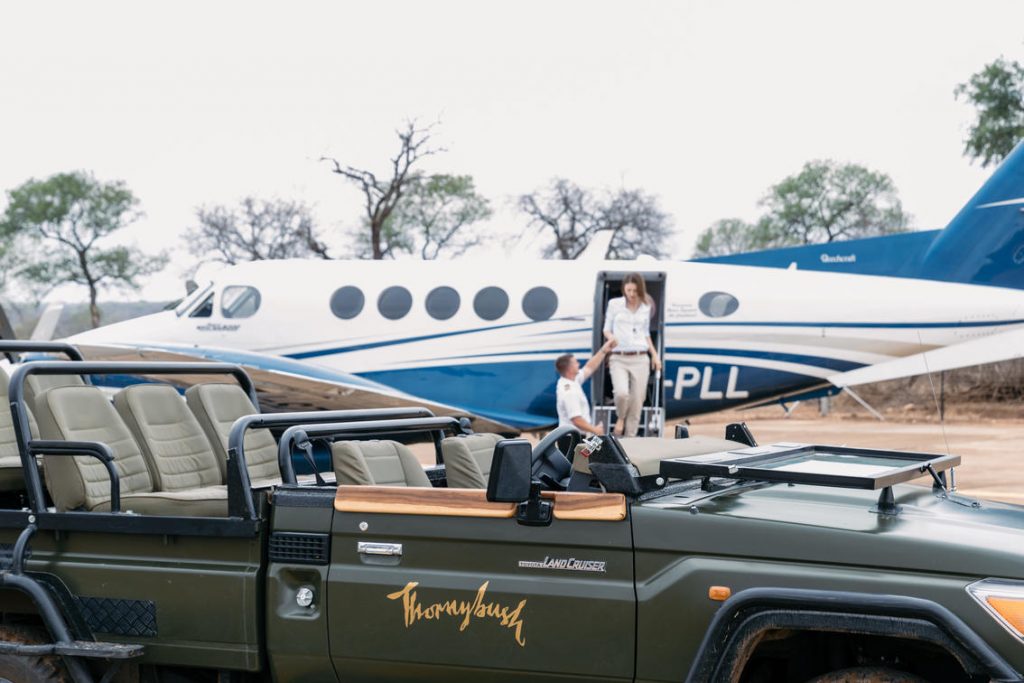 Wildlife in Kruger National Park
The Kruger National Park is a hub of African wildlife is home to over 520 bird species, and close to 150 mammals. The animals the you can see at the Kuger National Park are the lion, elephant, rhino, leopard, and African buffalo (Big 5), as well as Zebra, giraffe, African painted-dog, black-backed jackals, hyenas, hippopotamus and a large variety of buck and antelope among many other animals.
The animals that you will see in the Kruger National Park highly depend on how much time you spend there as well as the quality of your game drives. If you are self driving in the public part of the Kruger you will most likely not see all of the big 5, where as if you are in a private game reserve with open 4×4 off road game drives, you will be likely to see the big 5 if you stay 3 days or more in the Kruger National Park.
It is not uncommon to see animals in the Kruger right from the private lodges, either from the viewing decks and often form you accommodation. This means you can spot wildlife from the comfort of your safari suite even before embarking on a game drive.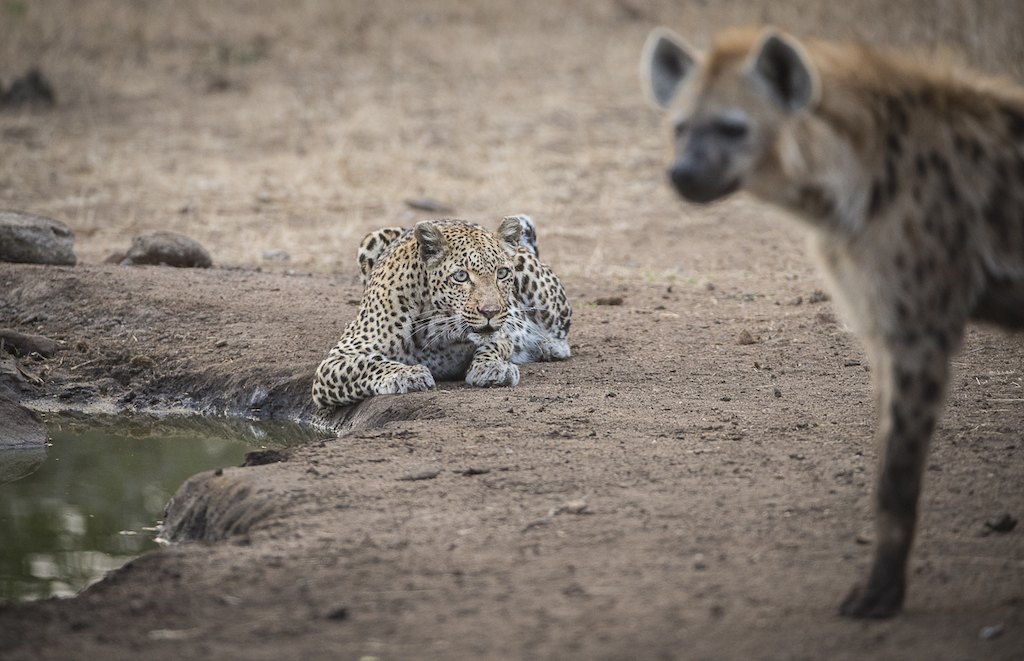 Game drives in the Kruger
Simply put when it comes to game drives in the Kruger National Park you will either be self-driving in you own car in the public part of the Kruger, or you will take part in the daily off road 4×4 game drives within a private game reserve.
The best game drives in the Kruger take place in the private game reserves and offer exclusive and uncrowded viewing with limited vehicle access. The customized 4×4 safari vehicles venture off-road to see the animals. The Kruger National Park game drives are 3-4 hours long and are lead by a guide and tracker who have a wealth of knowledge and experience. Together with their advanced driving skills and extensive knowledge you will track the wildlife and experience rare close up sightings. Your guides strive to locate the best viewing and photographic opportunities on each game drive, explaining the ecosystem and how the smallest of insects connect to the largest mammals. This makes every sighting even more spectacular. For some unique sightings, private reserves in the Kruger also offer night-time game drives in search of rare nocturnal animals and big cats out on the prowl.
If you are staying in a safari lodge outside the the Kruger National Park then you will either need to self-drive in your own vehicle or join an outsourced game drive from a tour operator. For these game drives there are more rules and given that the roads are public, vehicles must stay on the road. During the game drives and you can expect overcrowded sightings and battle to get a good view of the wildlife. With the game drive limitations in the public part of the Kruger National Park you will have to be lucky to see all of the Big 5 and experience close up sightings.
Outsourced game drives in the Kruger National Park cost approximately R 2000 per person, unless you are staying in a private game reserves where the price is inclusive with your accommodation.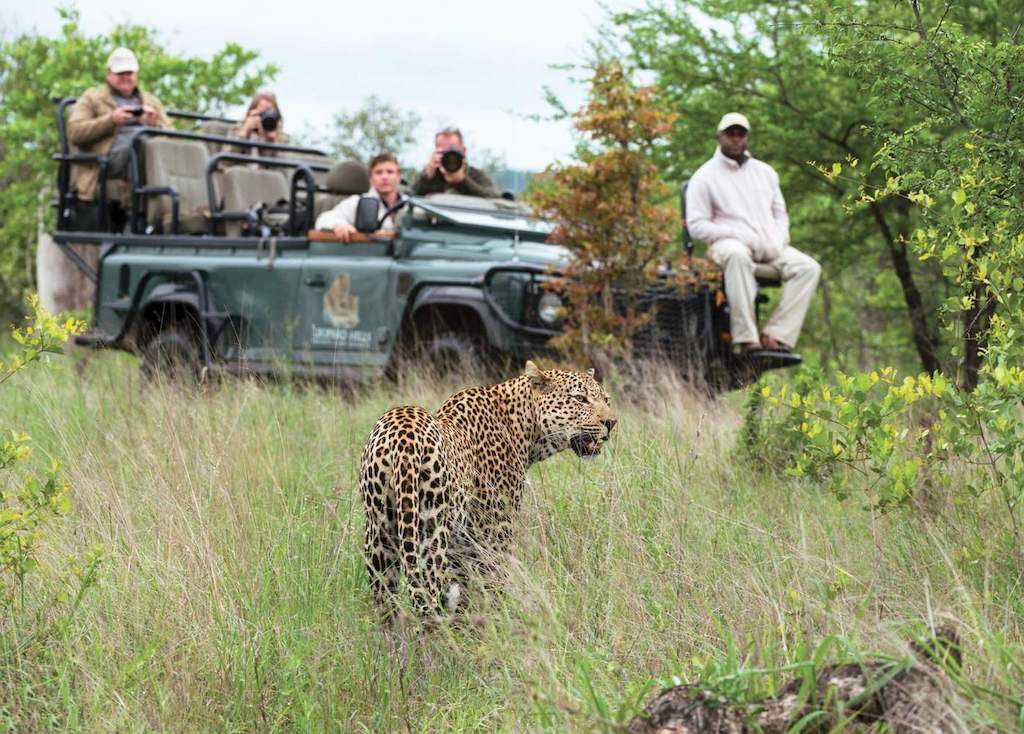 Kruger National Park Accommodation
The Kruger National Park offers a wide variety of diverse accommodation options from luxury 5-star private safari lodges to comfortable 3-star lodges. When you are deciding where to stay, you must first decide whether you would like to stay in a private game reserve or the public area of the Kruger National Park. It is highly important to understand the differences.
If you are wondering where to stay when you are visiting the Kruger National Park, the private game reserves are certainly the way to go if you are looking for the best accommodation and all round experience. Private game reserve accommodation ranges from lavish 4-star lodges to ultra-luxurious 5-star Kruger Lodges and offer a haven of luxurious relaxation, spectacular dining, warm hospitality, and world-class service with attention to detail. Main lodge areas generally comprise magnificent viewing decks and dining areas, swimming pools, library, bar, spa, and children's facilities. At the private lodges in the Kruger National Park you can expect to pay anywhere from R 3 000 to R 30 000 per person per night for an all inclusive safari package. The Kruger accommodation packages include morning and afternoon daily game drives, guided bush walks, three meals a day and beverages.
Then there are accommodation options outside Kruger National Park that accommodate visitors that would like to enter the gates each day and self-drive in the Kruger National Park. These accommodation options are often more hotel like and range around the 3-star and 4-star category with the odd 5-star establishment. The accommodation options outside the Kruger National Park cost anywhere from less than R1 000 per night, but are exclusive of meals, drinks and activites. The currency accepted in the Kruger National Park is the Rand (ZAR).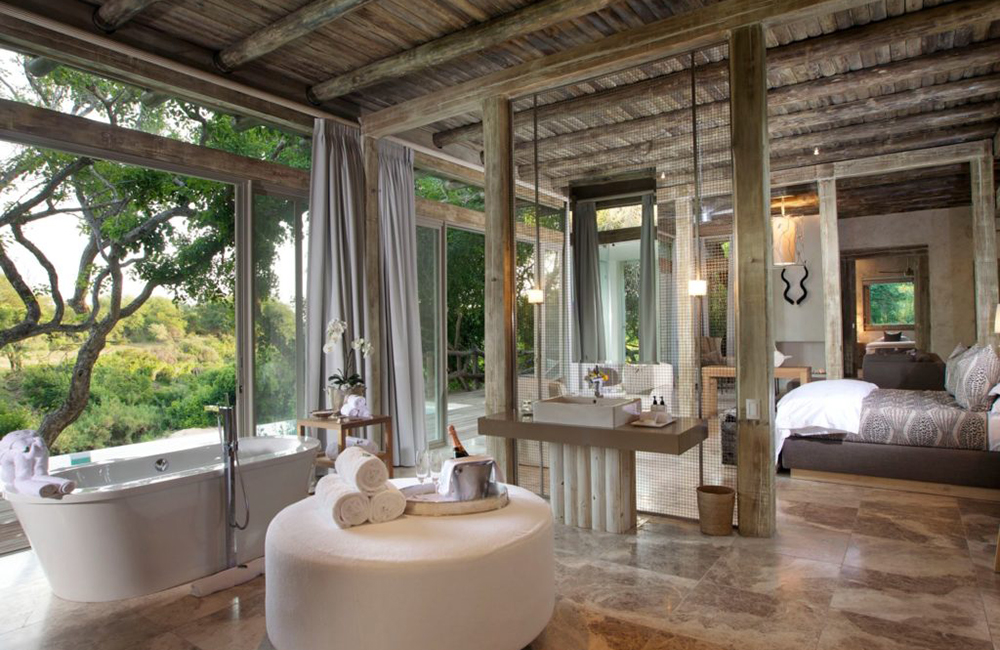 Other activities
The Kruger National Park has no shortage of activities, especially if you are staying in a private game reserve. Safari activities include morning and afternoon game drives, guided walking safaris with an armed ranger and birdwatching. Back at the lodge you can expect exceptional dining experiences under starry skies in the Boma, exclusive dining in the bush and evenings beside crackling fires. Game viewing doesn't stop on the game drives and during the day you can expect a visit from a herd of elephants and other wildlife. Extensive viewing decks and swimming pool areas are the perfect place to take it all in. Family-friendly lodges in the Kruger National Park offer a Mini-ranger Program with fun, safe, and educational safari activities for kids. Selected lodges offer arrangements for hot air balloon rides, community village tours, hiking, golfing, and visits to the Cheetah Breeding Program.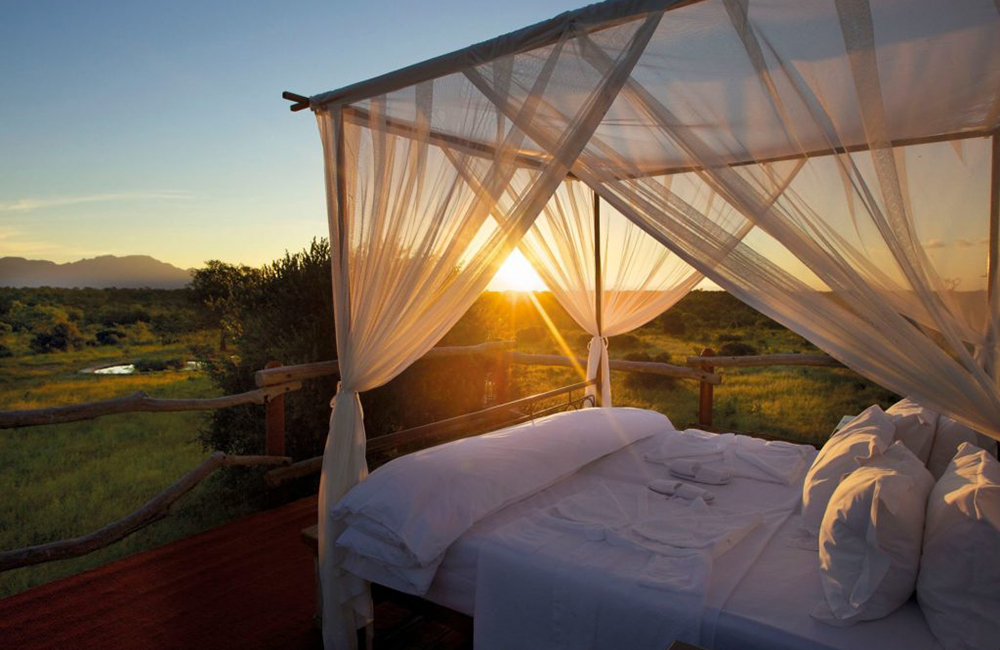 Is it Safe?
Kruger National Park safaris are very safe, but only if you follow the rules. Animals are use to the vehicles and most of the time it is as if you were not even there. The animals literally just get on with what they are doing in everyday life in the bush, they will even mate right in front of you. If you are self driving you will need to stay in the car at all times and if you are on a guided Kruger safari in open 4×4 safari vehicles, the guides will keep you well informed of the rules to stick to. Guides are armed and trained to protect you should an unforeseen circumstances arrive. With that said I guess there is always an element of danger to a safari, but that's what make it that little bit more exciting.
Another common concern in regards to safety in the Kruger National Park is malaria, although it is a malaria area, this should by no means put you off a safari in the Kruger. Simply, malaria precautions can be taken and it is best to consult with your doctor before your arrival.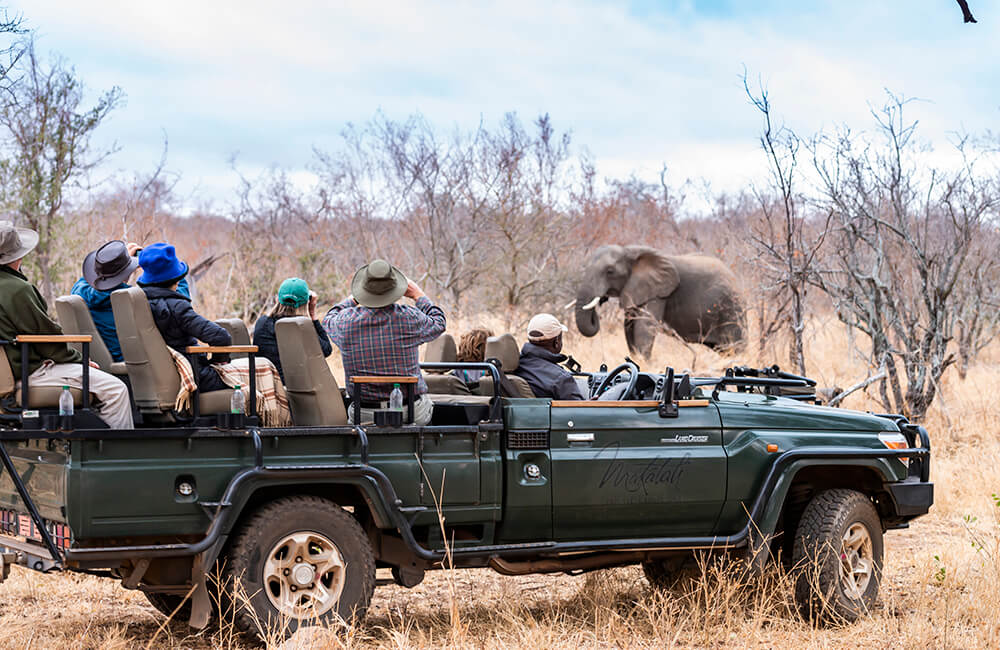 Home to the widest diversity of animal life in South Africa, a safari in the Kruger is the ultimate wildlife experience. Hosted by world-class game rangers and trackers, your Big 5 experience in the Kruger's private reserves will be a personalized and exclusive adventure. With award-winning accommodation, luxurious facilities, gourmet cuisine, and true African hospitality, a trip to the Kruger is certainly a bucket list 'must'.