It has been said that 'There is no greater experience in Africa than to hear the roar of the lion,' and we couldn't agree more. A lion safari in Africa is a truly memorable and mesmerizing experience. Being the second largest big cat in the world, lions have a fearsome and regal reputation.
With a dominant roar that can be heard up to 8 km (5 miles) away, it is no surprise these phenomenal beasts are known as the 'King of the Jungle'. They call the savannah grasslands and open plains of Africa their home and leave all who witness their majesty on an African lion safari in South Africa in awe.
The Lioness and Her Cubs
As the only big cats that live in groups and the most social felines on earth, lions need a lot of contact with each other roaming in prides of 10 – 15 lions.Although fierce hunters, female lions are caring mothers sharing strong bonds with their cubs. With a lifespan of around 15 years, the lioness remains in the same pride for life. She will reach two-thirds of her adult size by the time she is two years old and requires 5 kg of meat daily as healthy sustenance.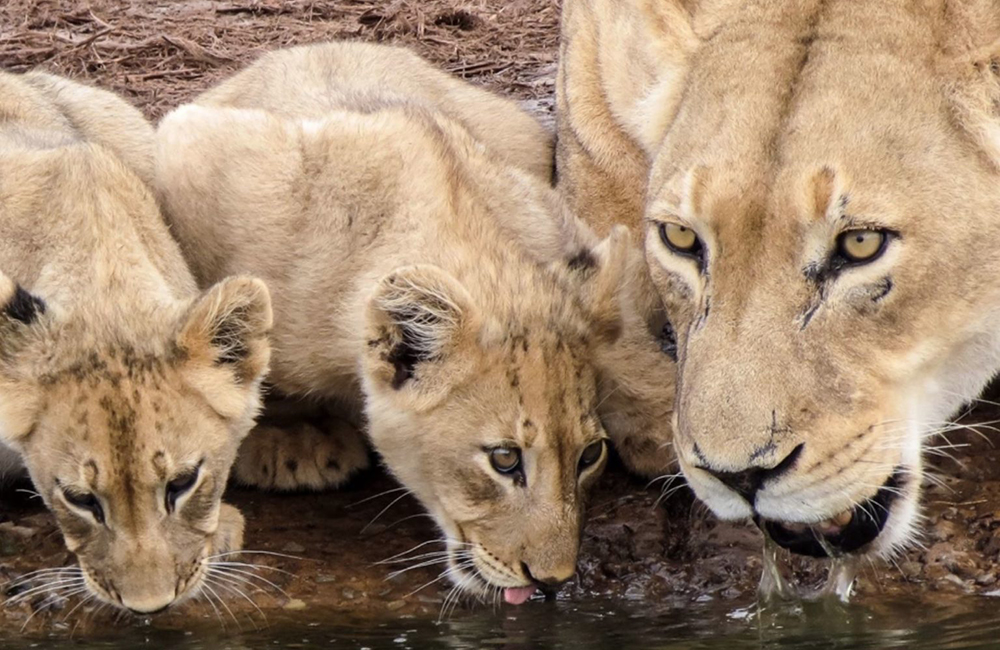 Mating once every two years females carry their cubs for three and half months before giving birth to between one and six cubs at a time. However, more than 50% of cubs die within one year of birth. Mothers call their cubs with soft roars and the pride females raise their cubs together with cubs suckling from any of the lactating females. These incredible cats even take care of neglected little cubs, allowing them to suckle.
Hunting
Surprisingly the females are the hunters in the lion pride targeting zebra, warthog, stray young elephant, buffalo, antelope, and giraffe. These amazing hunters can run up to 81kmph and have incredibly sharp night vision being six times more sensitive to light than humans. This gives them a significant advantage hunting at night. The best time for the hunt is usually at twilight or just after sunset, however, lions are opportunistic and hunt at any time. They spend 16 to 20 hours resting and sleeping during the heat of the day, conserving their energy for active night prowls. The males in the pride always get the first helping of the kill regardless of cubs in the pride. Incredibly, they can live without water for four or five days if needed.
The Lion King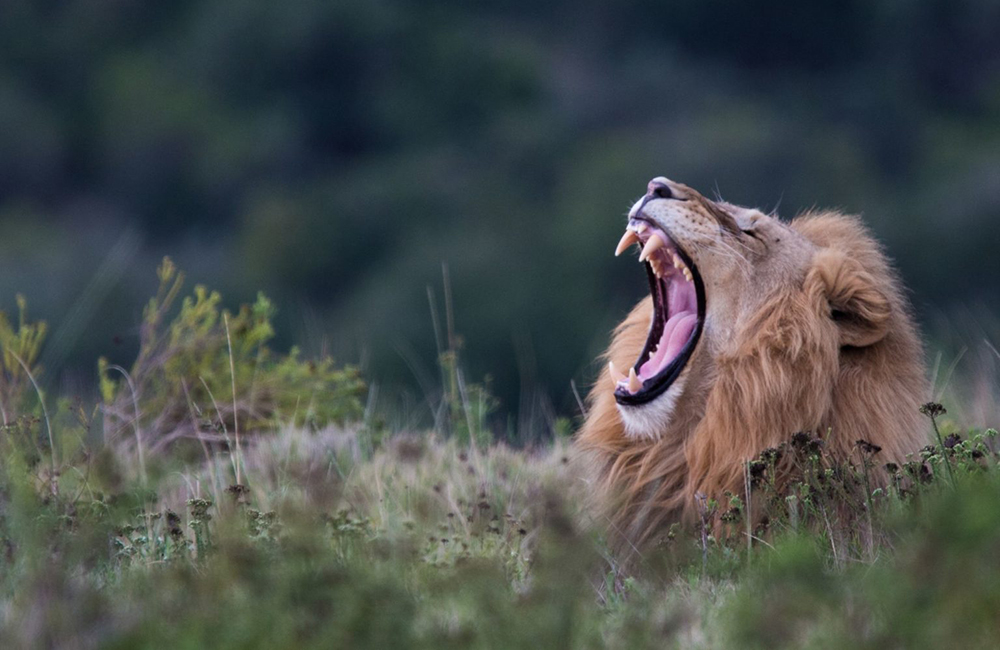 Being the only big cats that have mains, male lions seem larger and intimidating with their dense fur frame. Thick, dark manes show signs of sexual maturity and health status in male lions who can grow up to 3 metres in length and weigh up to 250kg, with tails measuring between 60 and 90 cm long. Males have a lifespan of around 12 years and eat 7 kg or more of meat a day.
While females roar for backup when under threat, males roar frighteningly loudly to declare their territory, call stray pride members and scare rivals. Lions from hot areas usually have lighter colour coats whereas those who live in very dense vegetation have darker coloured fur.
Best Places in South Africa to See Lion Sanbona Game Reserve
Although lions are thought to be prevalently seen in the Greater Kruger area in the north of South Africa, there is a surprising location just a 3-hour drive from Cape Town that boasts a magnificent white lion colony.
Sanbona Wildlife Reserve is an exclusive 5-star game reserve tucked in the Warmwaterberg Mountains of the Klien Karoo. The incredible 58 000-hectare wilderness sanctuary features open plains, river valleys, and mountains filled with indigenous flora and fauna. This photographic haven is also the only place with free-roaming and self-sustaining white lions. If a lion safari is what you are after, this place is just for you.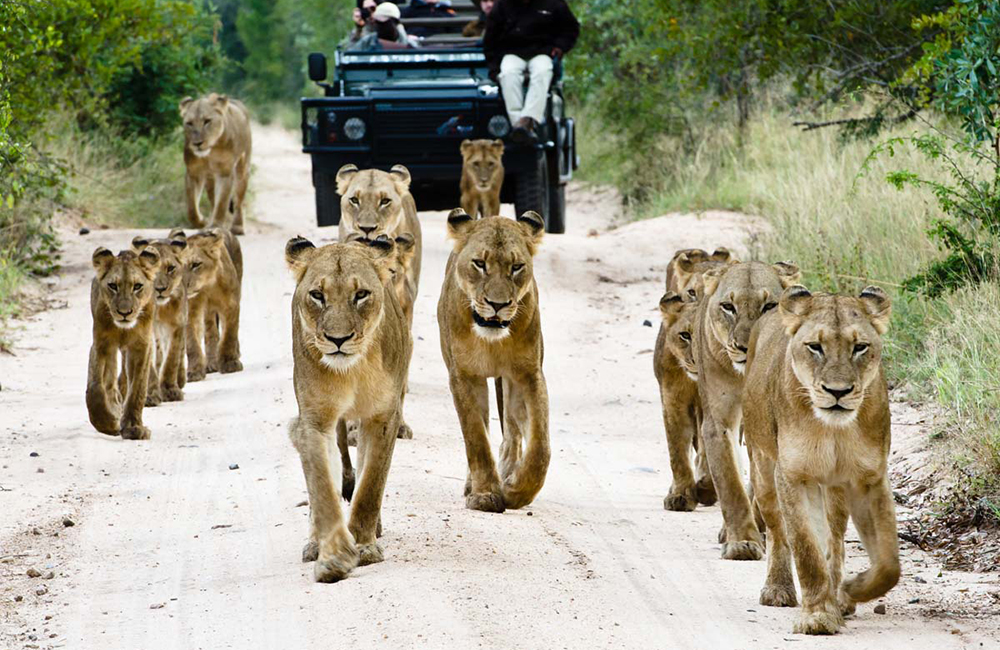 Game rangers here are experts in their field, passionate about every detail in the wild, from the smallest plants to wild white lions. During your lion safari at Sanbona Game Reserve, you will have the opportunity to see the African Big 5 and an abundance of other wild species including springbok, eland, kudu, zebra, jackal, caracal, aardvark, and hyena.
The reserve is host to 3 contemporary lodges making for a glorious getaway in the wild where you can spend evenings stargazing and dining under starry skies. Exceptional service and hospitality from the hosting- and game ranger team make this a truly special wildlife getaway.
Timbavati Private Game Reserve
Up in the north of South Africa, on the western end of the Kruger National Park, lies Timbavati Private Game Reserve boasting over 10 000 hectares of unspoiled Big 5 territory. This incredible destination is one of the few areas in Africa where the stately white lion can be found, making it a very worthwhile journey. A safari here is accompanied by expert rangers and trackers who aim to get you the best sightings on your lion safari. Specialist 4×4 game drives, off-road game viewing, night drives, and guided nature walks all make up part of your safari experience. Thrilling wildlife encounters also include elephant, zebra, giraffe, hippo, antelope, hyena, buffalo, and warthog.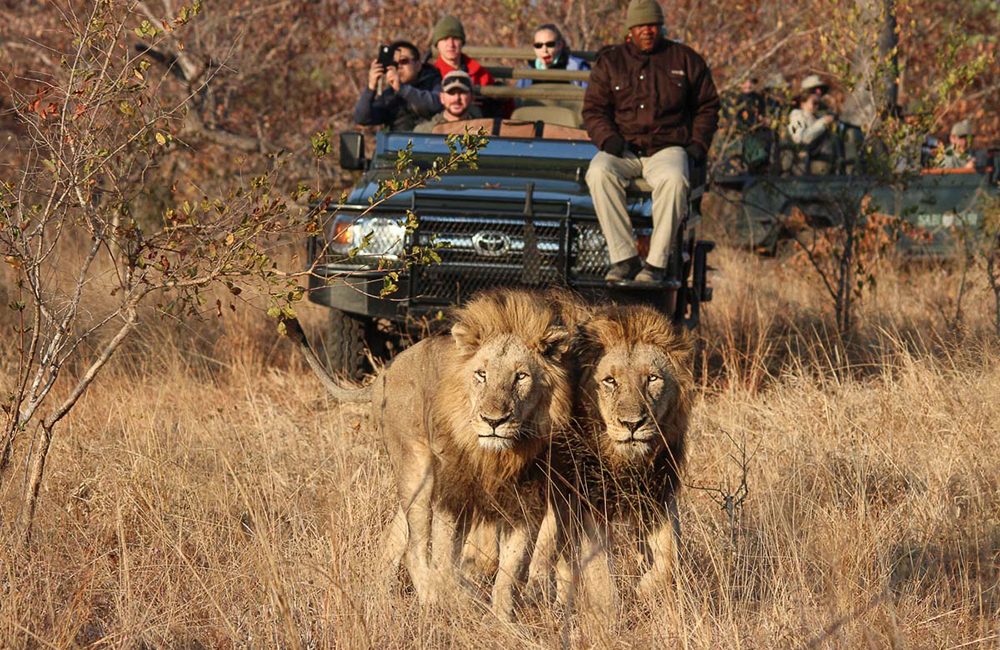 Timbavati Private Game Reserve is home to luxurious intimate safari lodge's featuring beautiful settings for game viewing from private viewing decks, the pool, and dining areas. With a variety of activities and conservation at the forefront of their values, a lion safari here offers you luxury, relaxation and a lot of adventure.
Ready for a roaring adventure in Africa? Book your lion safari with us and chat to one of our safari experts to help you find the best accommodation to make all your African safari dreams come true!