Wildlife enthusiasts who embark on a Big 5 safari in South Africa are no doubt enthralled at every rare encounter of a magnificent leopard, whether resting in a tree, out on the prowl, or in the midst of a kill.  Big cats make up 2 of the African Big 5 animals.  Although the leopard and the lion are not the largest in size of the Big 5 animals, they certainly are fierce hunters to be feared in their territory.   
The African elephant, rhinoceros, and the Cape buffalo complete the Big 5, known as the most dangerous and most difficult animals to hunt on foot.  Sadly, these five animals are also some of the most vulnerable and are endangered due to poaching. 
Leopard Conservation Initiatives
Leopards have been listed under a 'Vulnerable' conservation status due to human activities resulting in leopard sub-populations being endangered.  Once found across the African continent, leopard territory has now diminished to sub-Saharan Africa due to expanding agricultural practices and development projects depleting the leopards' habitat resulting in man-animal conflicts. 
These secretive cats are extremely adaptable to various environments and territories resulting in unsubstantiated statistics regarding their remaining population in Southern Africa. Protection, research, and education form the basis of leopard conservation projects which have been vital in the preservation of these magnificent creatures who also form a vital part of the food chain in their ecosystems. 
From Cub to Wild Hunter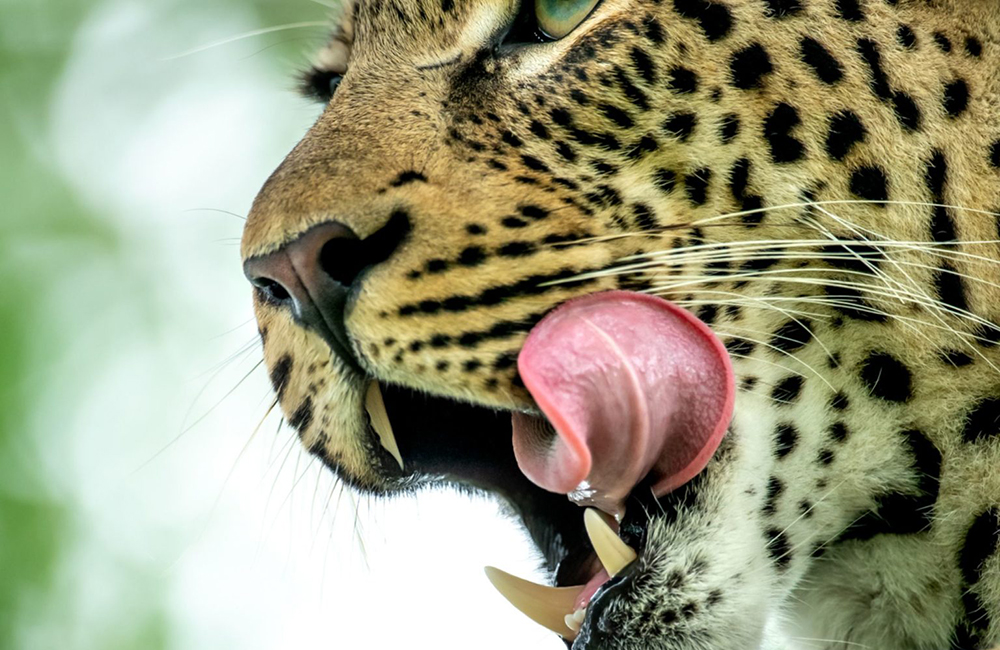 With a lifespan of 12 – 17 years leopards are solitary animals spending most of their time alone in their own territory marked with scratches on trees and urine scent marks.  After the gestation period of 3 months mothers refrain from wandering their territories until their young are old enough to join them.  Males and females cross territories only to mate or raise their cubs.
Born blind and hairless at a weight of 500 – 600g (17-21 oz), leopards grow to a weight of 36 – 75kg in full adulthood.  Cubs suckle for the first 3 months, with their mothers keeping them hidden for 8 weeks to protect them from lurking danger and predators.  Females will stay with their 2 or 3 cubs for 2 years until they are old enough to take care of themselves and have become proficient hunters.
Elusive Predators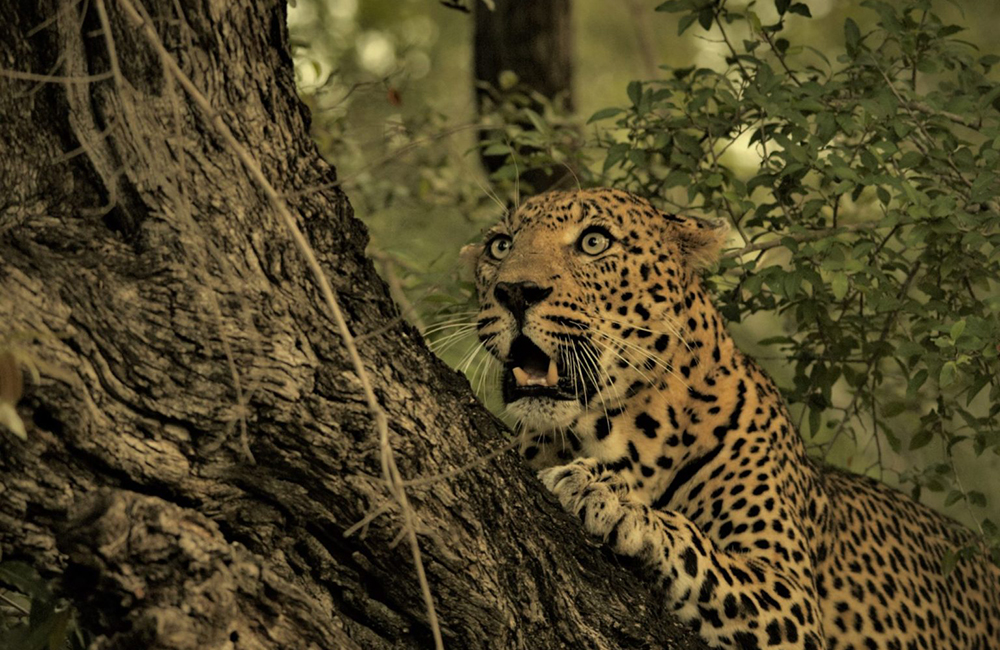 Able to run up to 58km/h and leap 6m forward, leopards are strong and fast nocturnal hunters.  These carnivores prey on a wide variety of animal species, from insects, rodents, and reptiles, to birds, antelope, and giraffe.
They can drag prey weighing up to three times their own body weight up into trees ensuring lions or hyenas don't steal their catch.  The dark spots (called rosettes) on their fur allow them to camouflage well in the treetops. Leopards are active night-time stalkers pouncing their prey from a five to ten metres range.  They are excellent swimmers which allows them to catch fish and crabs.
Best Places in South Africa to See Leopard
Londolozi
Londolozi Private Game Reserve is well known for its fascinating leopard colony and mesmerizing leopard sightings.  Situated in the Sabi Sands Game Reserve within the Greater Kruger National Park,  the reserve also boasts accommodation on the banks of the Sands River.  Exclusive game drives take place over 16000 hectares of breath-taking wilderness.  With comprehensive knowledge and tracking experience, Londolozi has two of only 17 Master Trackers in South Africa, guaranteeing extraordinary wildlife sightings and a thrilling Big 5 safari experience.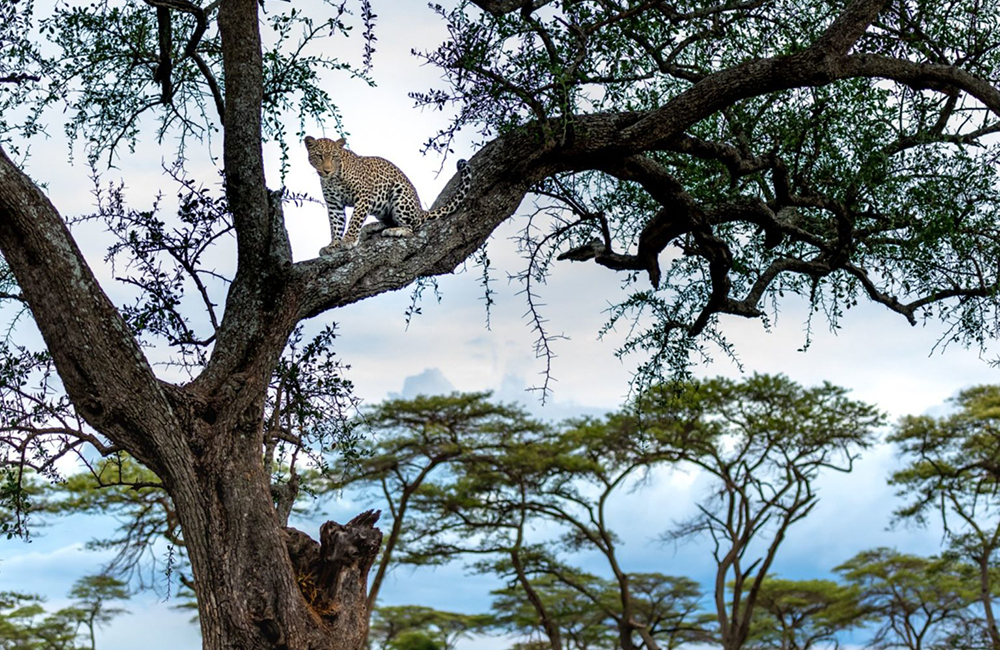 Besides magnificent leopard encounters, the reserve is also known for some of the highest concentrations of other rare Big 5 animals, making it a keen photographers paradise. This destination offers premier Big 5 photographic safaris. The reserve houses professional photographic equipment for hire as well as a studio for editing and printing images on canvas.
Londolozi was the first South African game reserve to be rewarded Relais & Châteaux status, making it among the world's top luxury destinations with five exceptional safari lodges within the reserve.
&Beyond Kirkman's Kamp
The &Beyond Kirkman's Kamp boasts exclusive traversing rights on 10 500 hectares of private game reserve in the Sabi Sands.  The reserve and lodge are set on a ridge overlooking the Sands River. Featuring unfenced borders with the Kruger National Park the reserve is renowned for incredible leopard sightings, as well as magnificent Big 5 encounters with opportunities to go on night game drives and off-road safari's for close-up wildlife encounters.
&Beyond Kirkman's Kamp is family-friendly featuring twelve luxurious cottages, a rim-flow swimming pool, photography lessons, birdwatching, star gazing, private-, and photographic safaris.
Singita Private Game Reserve
Boasting over 18 000 hectares of protected untamed land, Singita Private Game Reserve is recognized as 'Big Cat' country, renowned for intriguing lion and leopard sightings.
The luxury reserve lies in the privately-owned Sabi Sands, adjacent to the Kruger National Park. Being some of South Africa's most pristine territory, wildlife can be seen from the lodges various private and communal viewing decks including lion, buffalo, hippos, elephant, giraffe, zebra, antelope, and wild dog.
Expert rangers and trackers work together to track incredible close-up animal sightings for every Big 5 safari.  Singita features 3 luxury lodges, including a luxury family villa, a spacious swimming pool, spa, fitness centre, and Premier Wine Boutique.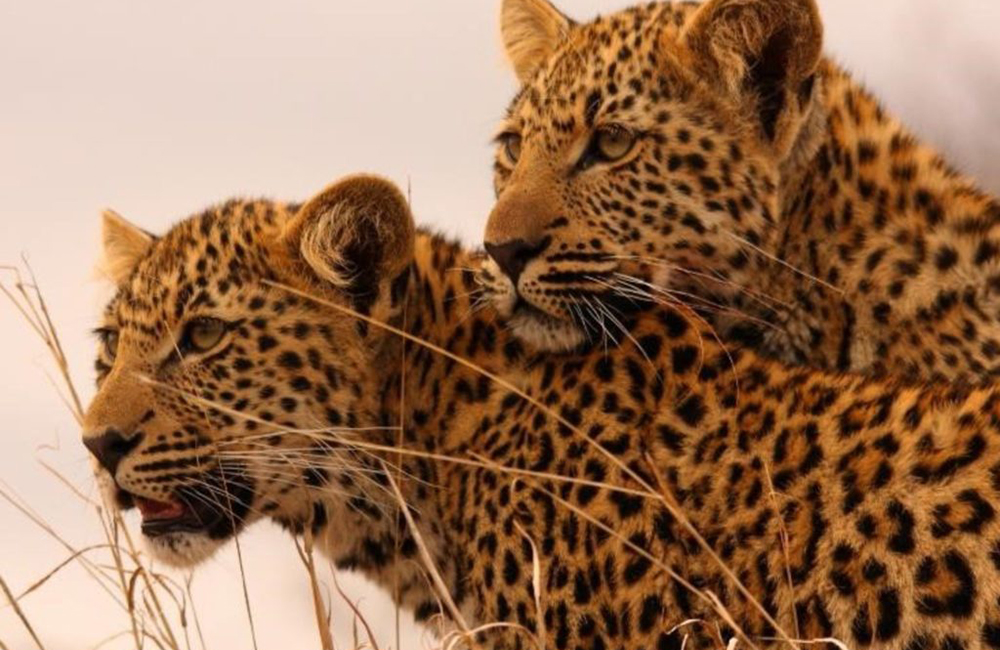 Private Game Reserves in the heart of 'Big Cat' country practice many conservation initiatives as part of their primary focus, including Leopard Conservation Projects, Community Projects, and other research and protection initiatives, especially for the Big 5 and other vulnerable species.  By visiting these private game reserves, you will not only experience wild encounters of a lifetime but will also support these initiatives in sustaining the longevity of these incredible wild animals.