Thinking about planning a romantic African safari honeymoon? Down in Africa, we're masters at showcasing nature's magnificent romantic side – in pure luxury. We know that the thought of sleeping out in the African bush where there are bugs, dust, and wild animals may not seem like the most romantic way to spend your holiday but think again. 
Imagine candlelight dinners under a sky of endless glistening stars, hot air balloon rides over vast open plains teeming with wildlife, and sundowners on a hilltop as the skies turn crimson and a golden ball of fire drops behind the horizon. Honestly, we don't know what could be more romantic than an African couple's safari. Here are our top 10 romantic honeymoon safari activities for newlyweds, oldly-weds, and couples simply celebrating each other.
Night Game Drives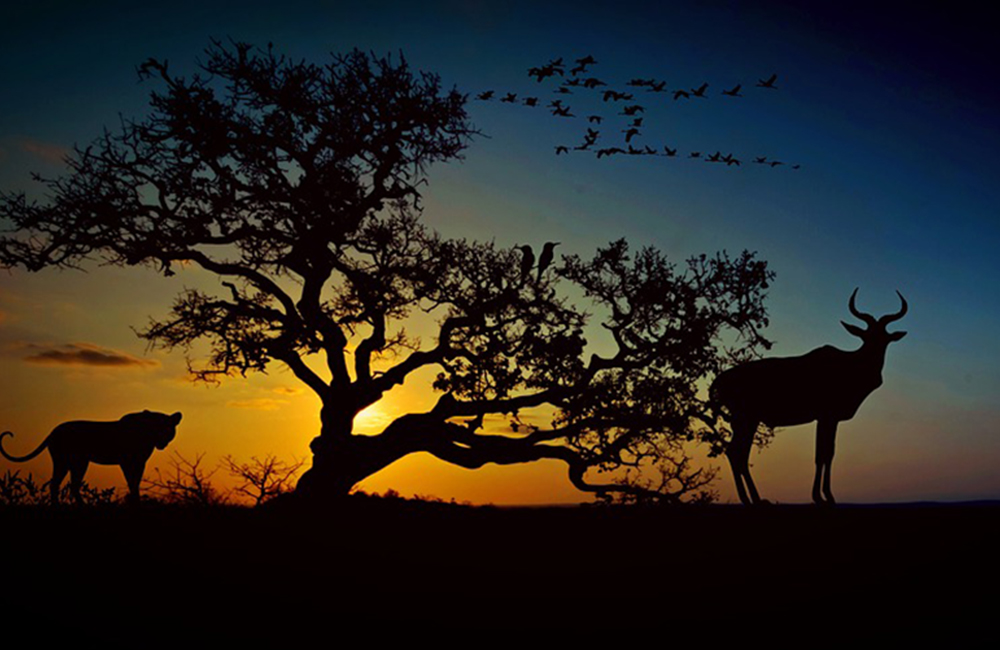 Start your luxury honeymoon safari with an adventure together. Night game drives usually set out just before sunset. Your game ranger will take you to a magnificent viewpoint where you can enjoy sundowners and glorious sunsets. Once the African sun drops behind the horizon, spotlights come on and you start tracking the nocturnal animals of the wild, cozied up in the back of the 4×4 safari vehicle. The secrets of nocturnal predators come to life as a different world unfolds after dark. 
You will get a chance to see animals not likely seen in the day such as porcupine, bush babies, aardvark, elephant shrew, honey badger, and may even spot big cats on the prowl.  
Boma Dinners
A romantic setting of lanterns and crackling fires welcome you to dining in the boma. Here campfire dining is stylish, romantic, and extravagant. 
Experience the authenticity of the bushveld, under the African night sky as you feast on superb cuisine and world-class wines. Tables are set around a roaring outdoor fire, and African hospitality lies at the forefront of each dining experience whether a traditional African gourmet barbecue or international buffet.
Bush Dinners and Breakfasts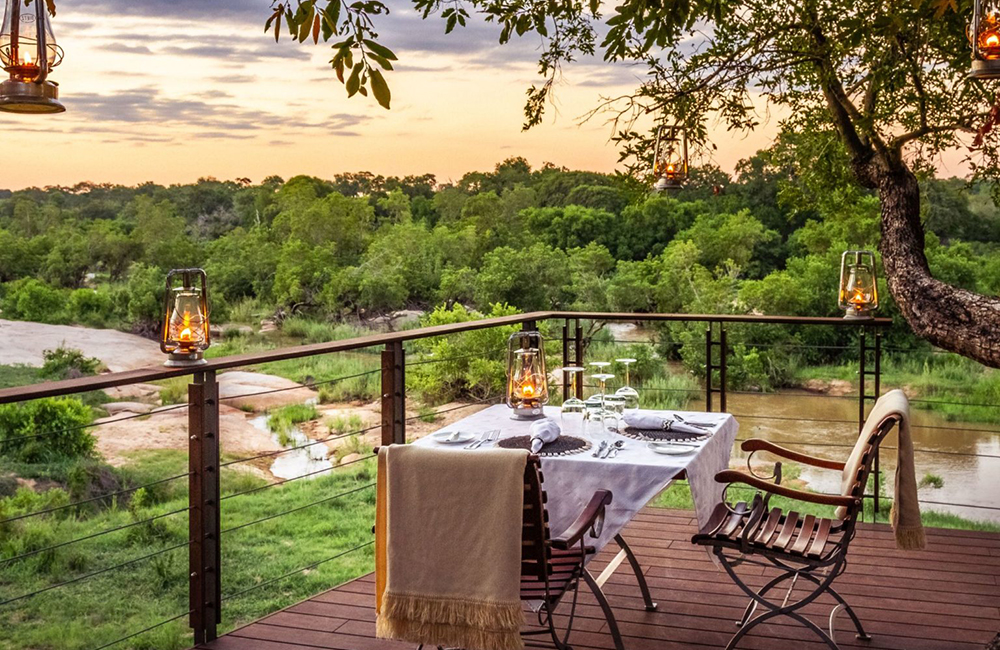 With a wide array of magnificent natural landscapes, the bush provides a host of exclusive romantic dining options. Paired with carefully prepared gastronomic delights you can enjoy a private picnic on a hilltop, breakfast beside the riverbed, or dinner under the Milky Way with the moon and candles lighting up the perfect dining setting.
Hot Air Ballooning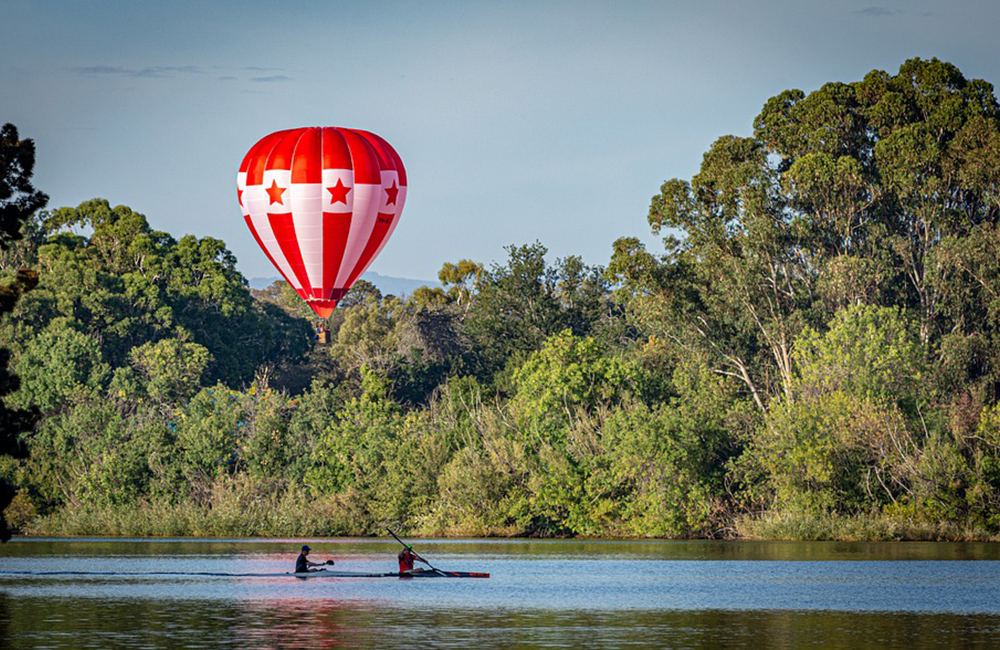 For that extra bit of extravagance on your African honeymoon safari, take your wildlife viewing into the air. A view from the top will leave you mesmerized at magical landscapes, gleaming rivers, and roaming wildlife as you float across the sky with an enormous billowing balloon. This truly is a romantic safari affair you will cherish forever.
Horse Riding
Whether a seasoned horse rider or beginner, embark on a safari experience that takes you off the beaten track to explore adventurous paths and exclusive terrains getting up close to zebra, giraffe, springbok, and eland. This romantic horseback safari offers a chance to experience the wild from a new perspective as you share special sightings and immerse yourself in the bushveld. 
Safari guides lead you on the journey, tracking animals, providing insights, and securing your safety.
 Spa Treatments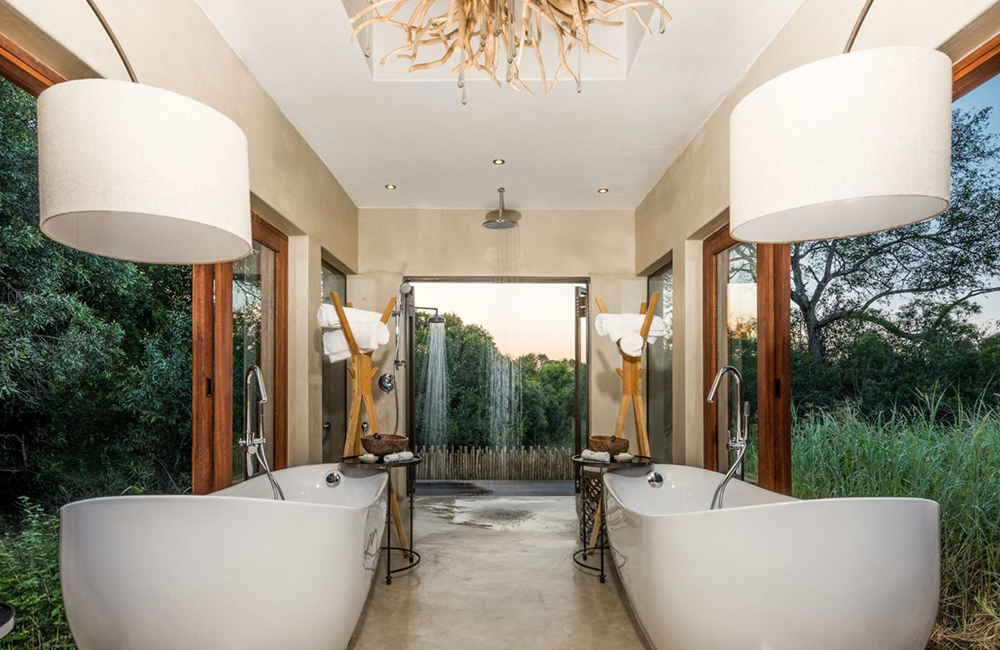 Indulge your senses with a couple's massage and relax in nature's oasis of tranquillity as antelope and zebra wander past the open spa deck. With a variety of treatments combining natures healing essence and peaceful setting, your romantic honeymoon safari won't only be a wild adventure, but also a de-stressing retreat. 
Stargazing 
Once you escape from the smog and city lights into the untouched wilderness, the Milky Way lights up the night and starry galaxies appear in all their magnificence. On clear evenings, lay back and marvel at the glistening African skies as you learn about the stars and astronomy. Wish upon a star as another day of honeymoon safari adventures come to a close. 
Tie the Knot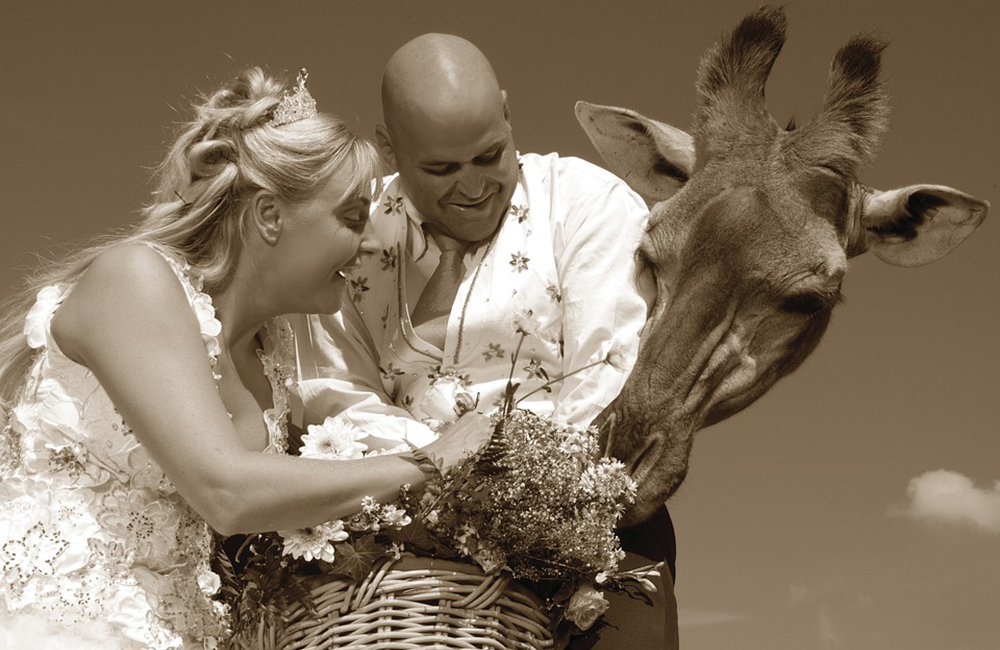 Unusual love deserves to be celebrated in a unique setting. Whether you are eloping at an intimate gathering or want the whole grand shebang, a safari wedding is made of enchanting scenery, luxurious dining, and elegant charm. Savour the chance for unique wedding photography in the wild, and dancing beside a glistening outdoor bonfire. For a match made in wedding-bliss-heaven, combine your celebrations with a honeymoon safari, and magnificent Big 5 game viewing.
Tented Safari Experiences
Forget about roughing it in a 2-man tent with hardly enough space to roll around in your sleeping bag, honeymoon safaris are all about luxury, even in tents. A luxury tented safari combines the authentic feel of being in the wild without foregoing any of life's indulgences. Spend your honeymoon safari staying in a luxury tent with a private timber viewing deck, luxurious bed, draped mosquito netting, air-conditioning, personal bathroom, and spacious living area.   
Treehouse Safari Experiences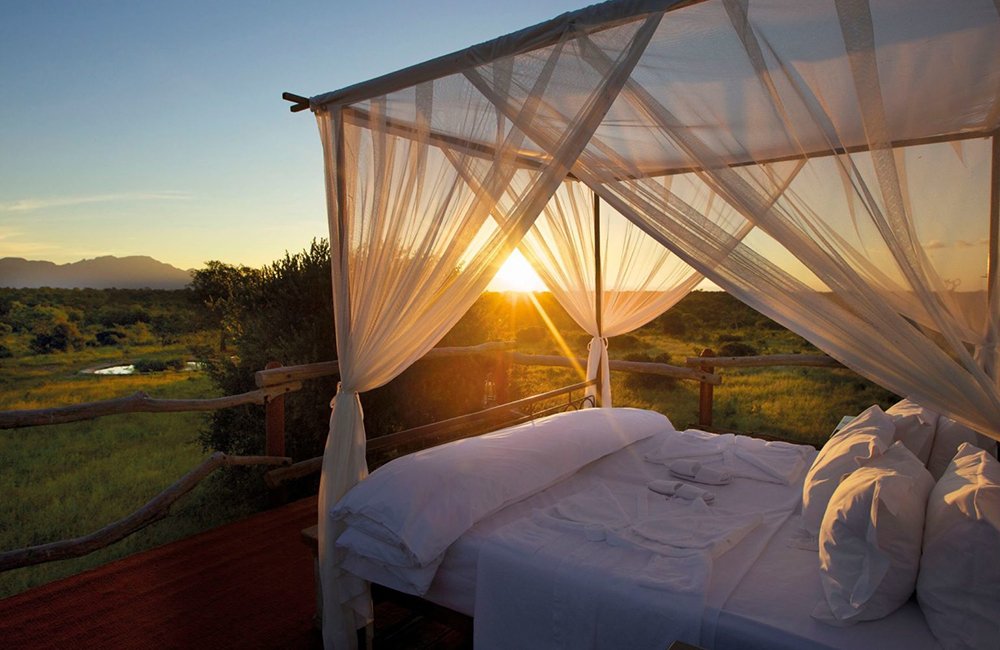 The ultimate romantic experience for a luxury honeymoon safari lies in the treetops overlooking African plains and roaming wildlife. Spend a night in a luxury open treehouse, falling asleep under the glistening African sky. Treehouse experiences usually start off with a gourmet picnic in your treetop overnight home as the sun sets. Lanterns light up your treehouse for a romantic night of exclusive relaxation. Set away from the main camp your treetop oasis boasts a private bathroom and large bed draped romantically with mosquito netting. Fall asleep at the sounds of the wild with the moon lighting the night.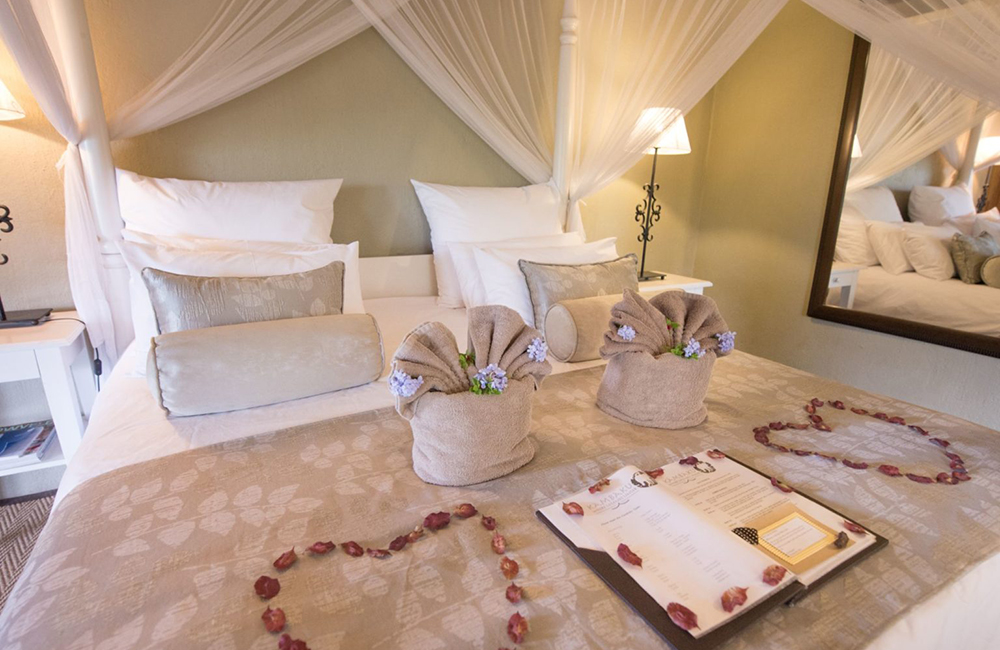 Depending on your honeymoon safari location you can indulge in a wine tasting event, helicopter ride as well as a sunset cruise. Safari's embody romance in a natural haven of relaxation while at the same time offering adventures and luxurious comfort. Whisk your partner away on a romantic safari expedition and cherish spectacular and exclusive moments together. Talk to one of our honeymoon safari experts here.