Located along South Africa's magnificent Sunshine Coast, Sibuya Game Reserve lies halfway between Port Elizabeth and East London. This glorious east coast destination boasts the most hours of sunshine in South Africa with mild temperatures year-round averaging 25º C in summer and 20º C in winter. The malaria-free eco-destination provides the perfect balance of seaside vacation with wildlife viewing in untouched African grasslands and riverine forest.
Activities abound for both water-lovers and hiking enthusiasts. An adventure exploring this unique landscape starts near the Kariega River mouth in the coastal town of Kenton-on-Sea. From here guests embark on an 11 km boat journey from the town's beautiful Blue Flag beaches and the Kariega River mouth upwards along the river estuary to Sibuya Game Reserve.
The reserve offers both tented eco-camps and luxury lodge accommodation. Regardless of which you opt for, an enchanting experience from beach to bush awaits to mesmerize you in this unique setting.
With its varied landscape of bushveld, coastal forests, waterways, and grasslands, wildlife and birdlife thrive in the lush vegetation. Sibuya Game Reserve is home to 45 species of wildlife, visitors can witness Africa's Big 5 in action as well as giraffe, zebra, warthog, antelope, and Oribi. It is not often you get to see these amazing creatures against a backdrop of ocean vistas in the distance.
Many visitors, however, don't only visit Sibuya for the magnificent game viewing safari's, but for the remarkable activities provided by the reserve in addition to spectacular scenery, wildlife, flora, and birdlife. Here we'll let you in on what awaits on this grand beach and bush adventure.
River Cruises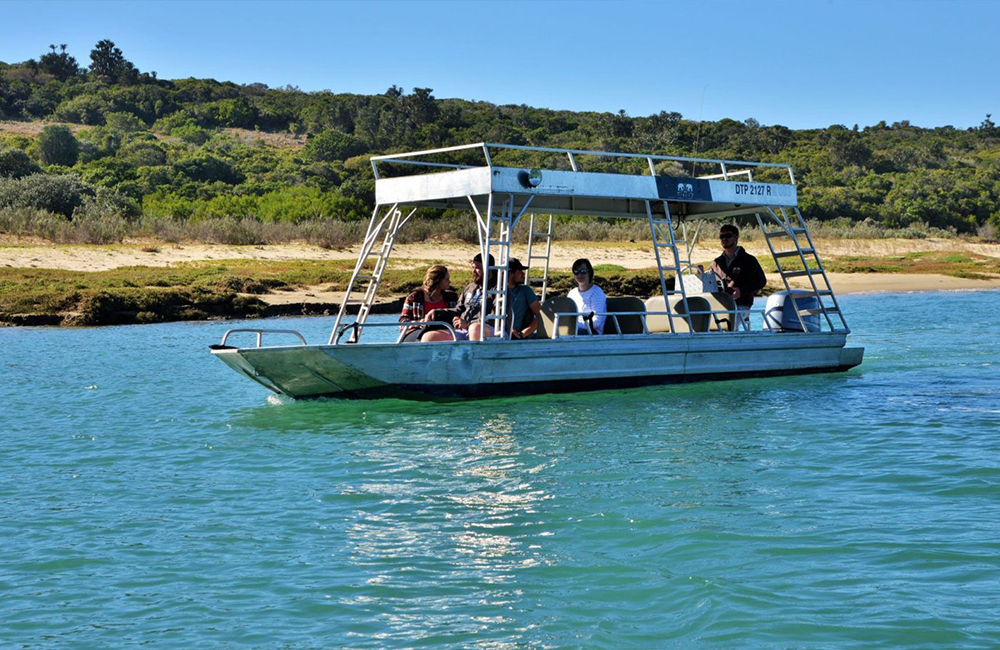 Your Big 5 safari at Sibuya Game Reserve is inclusive of a river cruise allowing you to experience the African wild from the water. Watch from the boat as animals come to drink at the river edge, spot colourful birds in the reeds, see fish swimming in the waters below and crocodiles and hippos bathing from a distance. Savour the stillness of the bush, birds chirping and waters splashing gently against the river's edge.
Bird Watching & Guided Bird Walks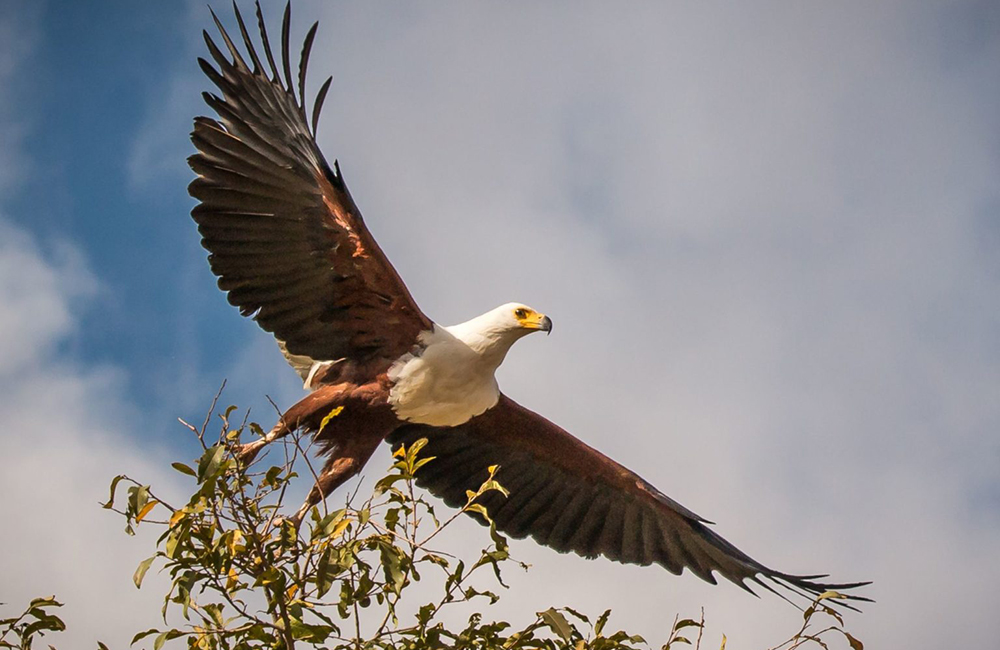 With nearly 400 bird species calling the Sibuya Game Reserve home, and some of South Africa's top 10 birds located here seasonally, this is certainly a bird lovers paradise. The riverine vegetation makes it especially appealing for water-loving birds, and you will also see some spectacular birds of prey and scavengers on game drives, cruises and walking safari's.
Extraordinary birds you can expect to see are the fish-eating Western Osprey and African Fish Eagles who boast an incredible wingspan of 2 to 2.4 metres. You may also spot the territorial African Goshawk, stealthy Goliath Heron able to swallow fish up to 1kg, and the threatened Half-collared Kingfisher. Secretary Birds can be spotted by their long tails reaching up to 75cm – the longest of any South African bird species. They kick their prey to death, whether it be a Cape Cobra, or small mammal. Long Crested Eagles are easily identified by the unusually long crown feathers on their head.
The symbiotic relationship between the birds and animals of the bushveld is an extraordinary one. Your game ranger will guide you through the best places for your birding expedition and share fascinating bird and wildlife facts.
Fishing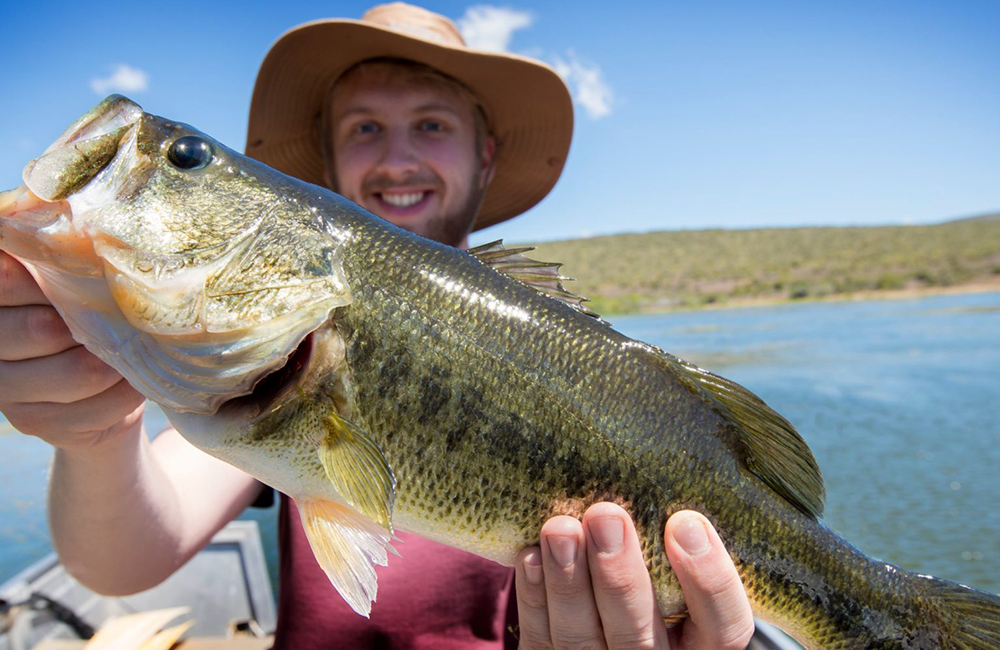 Included in your stay at one of Sibuya's lodges is a fishing excursion with Kob being a highly targeted edible saltwater fish off the coastline. Also known as Daga, Drum, and Kabeljou, these fish are sizeable and a great species to earmark on estuary boats with lures. They will put heavy tackle to the test, moving around aggressively in shoals feeding on small fish.
Between August and November adult Kob migrate from the Cape waters to KwaZulu-Natal to spawn. Adolescent fish enter and remain in the upper reaches of estuaries until they grow to 15cm. Feeding in muddy, murky environments, Kob have an excellent lateral line system allowing them to be less reliant on sight when 'hunting' for small fish, prawns, crab, and squid. This sensory system enables fish to detect vibrations and pressure changes in the water.
A professional guide will take you out on the river for a fishing adventure amidst beautiful surrounds. For an additional cost, keen fishermen can journey out to the ocean waters for deep-sea fishing, rock- and surf fishing.
Canoeing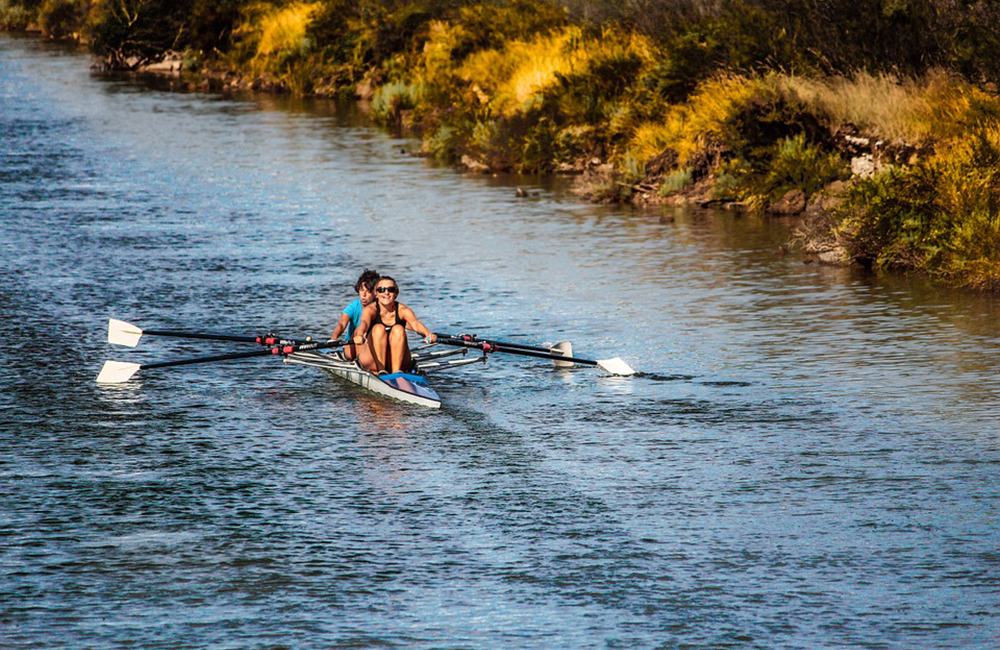 Grab a canoe and head out on the river waters for a paddle through the reeds as you spot colourful birds, frogs, and fish. A fabulous family activity or venture out as a couple and enjoy the tranquillity of nature out on the water.
River & Sea Swimming
Kariega Beach at Kenton-on-Sea (your point of arrival on your Sibuya safari) is an exquisite beach and tidal lagoon where guests can enjoy sunny days relaxing on white sands and calm waters. Guests at Sibuya are spoilt for choice when it comes to swimming as there are several top-class beaches which can be reached by boat transfer as well as designated river areas suitable for cooling down in the summer heat.
Beach Walks
With beautiful beaches come beautiful sunrises. Enjoy relaxing walks along quiet beaches and the sounds of the waves lapping the shore. Surrounded by lush vegetation and the quaint town in the background, it truly is a haven of relaxation and extraordinary natural beauty.
Horse Riding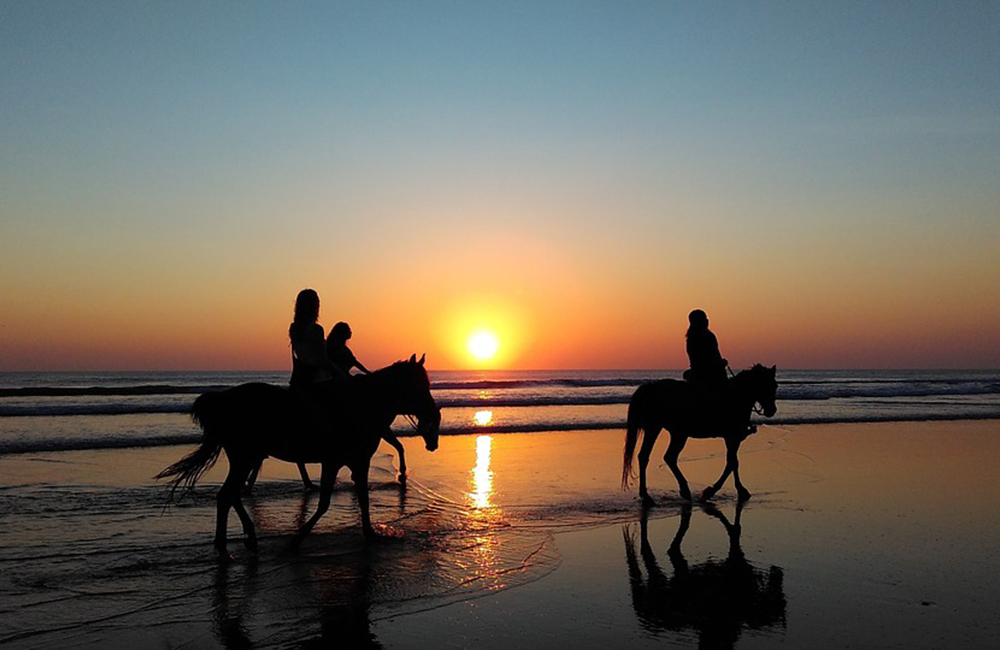 Trot along serene sandy beaches and through wild bushveld on horseback. This experience allows you to immerse yourself in the heart of nature. An up-close horseback adventure in the wild can be enjoyed by both novice and well-versed riders with a guide to lead you through off-the-beaten-track paths for a breath-taking experience.
Spa Treatments
Restore body, mind, and soul as you adventure in the bush, but also relax with a riverside massage soaking in the serenity of the bushveld. Luxurious pampering treatments at Sibuya ad a luxuriously soothing and relaxing dimension to your Big 5 safari.
Historical and Township Tours
Cultural tours allow you to experience a simplistic way of living, different to your own. Explore new cultures, flavours, and traditions as a guide leads you on a historic and cultural tour of nearby settlements. Experience vibrant African hospitality and get a glimpse into the challenges and dreams of these communities.
With a fantastic range of activities for couples, a group of friends, and the whole family, there is no doubt that Sibuya Game Reserve offers one of the most unique Big 5 safari adventures in South Africa. Contact us for more info on booking your Sibuya Game Reserve getaway now.