The African Big 5 are much sought after sights on any African safari. These 5 magnificent animals are known to be the hardest to hunt on foot and also some of the most dangerous animals in the African bushveld. The lion, leopard, rhino, elephant, and Cape buffalo are also amongst some of the most vulnerable animals in Africa endangered due to poaching and human conflict.
Although one may think of big cats or large elephant and rhino to be the most dangerous of the lot, the Cape buffalo (also called African buffalo) is reported to be the killer of more hunters in Africa than any other animal. They have been attributed the nickname of 'Black Death' and 'Widow Maker' due to this aggressive and cunning nature.
Amazing African Buffalo Features
With an average lifespan of 20 years, Cape buffalo are characterized by large horns with fused bases on their head. This bone shield can exceed a meter in length. With a weight between 550 kg – 800 kg, a height of up to 1.7m (5.6 ft) and body length ranging from 1.7 – 3.4m (5.6 – 11.2 ft), these bulky beasts can run an astonishing 57kmph (35 mph).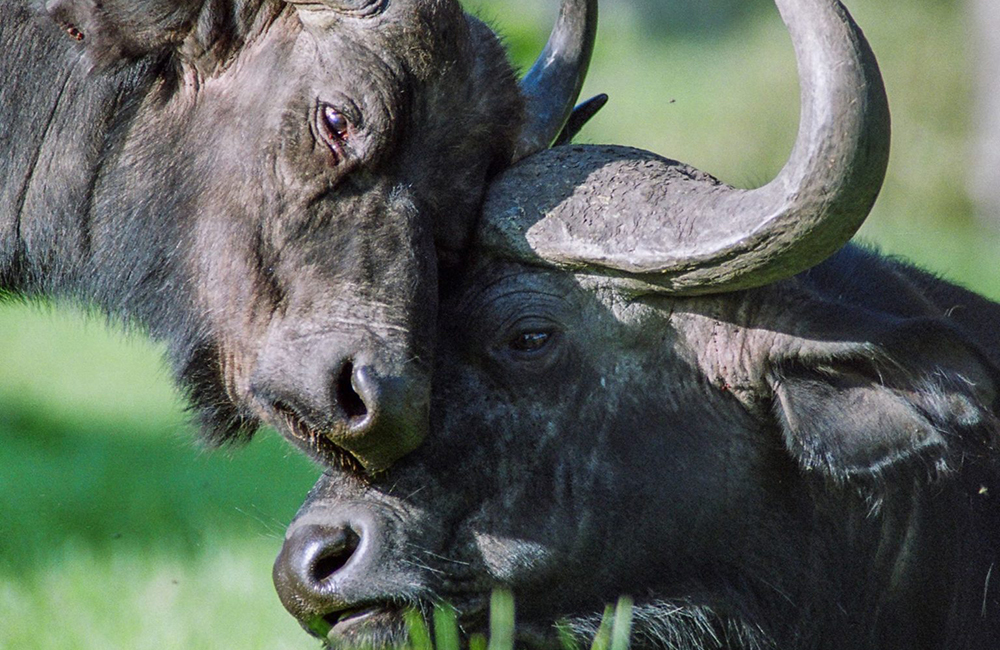 Their poor eyesight is compensated for by an exceptional sense of smell and hearing. Bulls can often be found alone or in small herds of up to 10 animals, however, herds of 500 up to 1000 buffalo can be found living and grazing together, which of course has a dramatic effect on grasslands. In order to obtain nutrients deficient from their diet as herbivores, they lick termite mounds and mud stuck to each other's coats from bathing in mud pools. Unlike other Big 5 animals, buffalo require water daily and can drink 40l of water per day.
Buffalo Habitat
Buffalo are grazers and live in bushveld areas with long grass and open savannah grassland. They also eat seed pods from acacia trees. Grazing mainly in early mornings and evenings, hotter parts of the day are spent resting in the shade.
Buffalo generally remain close to water sources, lying in the water and mud holes to stay cool. Mud baths help them get rid of ticks, flies, and horseflies. Due to their surprisingly good swimming skills, they can cross deep rivers in search of better grazing areas. When a herd of buffalo is ready to move to new grasslands, individual buffalo stand up and face the direction in which they want to move. The dominant female then leads the herd in the direction faced by the majority.
Life in the Herd
Large herds of female buffalo have strong bonds and will rush to the defence of their herd members when in danger. With strong features and an undeniable deadly reputation, African buffalo don't always run away in danger but stand their ground as a group to defend their young and other herd members. They have often been seen circling back on their attackers and use attack as a way of defence with bulls able to cause immense damage with their horns and hard hooves.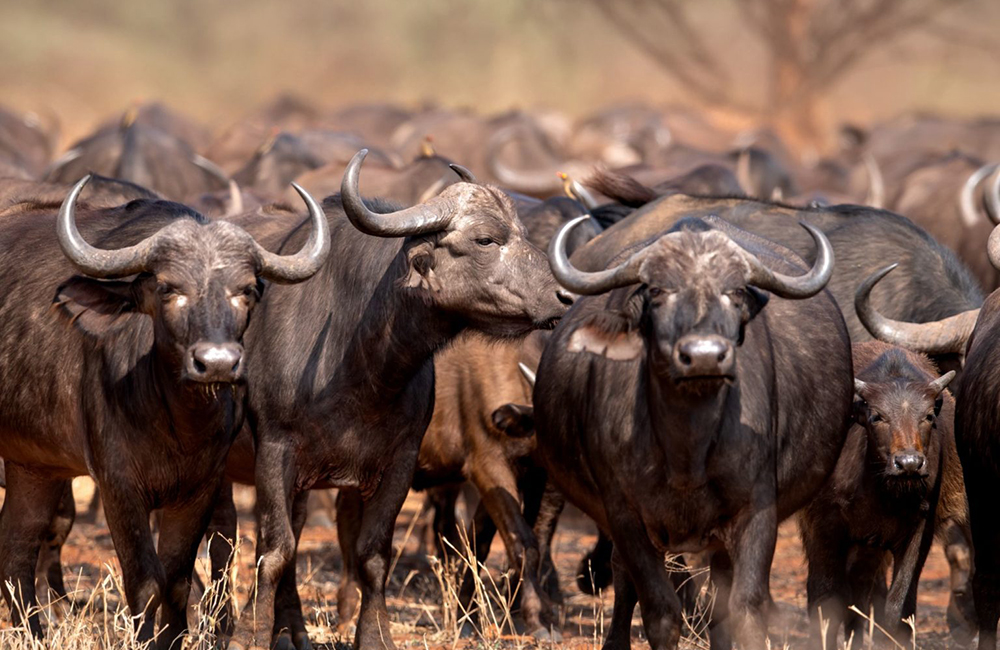 With mating happening mostly during March and May, single calves are born early to mid-summer after an 11-month gestation period. Cows generally birth every two years. For the first few weeks, new-borns stay hidden in vegetation for their own safety while being nursed. Older calves remain in the centre of the herd for protection. These unpredictable animals cannot be domesticated, yet despite their aggressive nature, their lives are threatened by predators such as crocodile, lion, hyena, leopard, African wild dog, and humans.
The Best Place to See African Buffalo in South Africa
Buffalo are widely spread in South Africa being found largely in the Greater Kruger, and Eastern Cape reserves as well as Zululand.
Amakhala Game Reserve
With five of South Africa's eight biomes providing a diverse selection of vegetation and the Bushman's River running through the reserve, Amakhala Private Game Reserve is an ideal habitat for the African buffalo to roam. The Amakhala Game Reserve is a malaria-free, 8500-hectare private game reserve in South Africa's Eastern Cape. The family-run Big 5 game reserve is known for its great variety of flora and fauna, breath-taking views, and unforgettable wildlife encounters.
With environmental preservation and wildlife conservation high on their agenda, Amakhala's game rangers are passionate experts providing top-quality safari experiences as they guide, educate, and entertain guests through the Big 5 territory. Besides the incredible Cape Buffalo, lion, leopard, elephant, and rhino, an abundance of other wildlife can also be found here including giraffe, cheetah, zebra, wildebeest, and various species of antelope.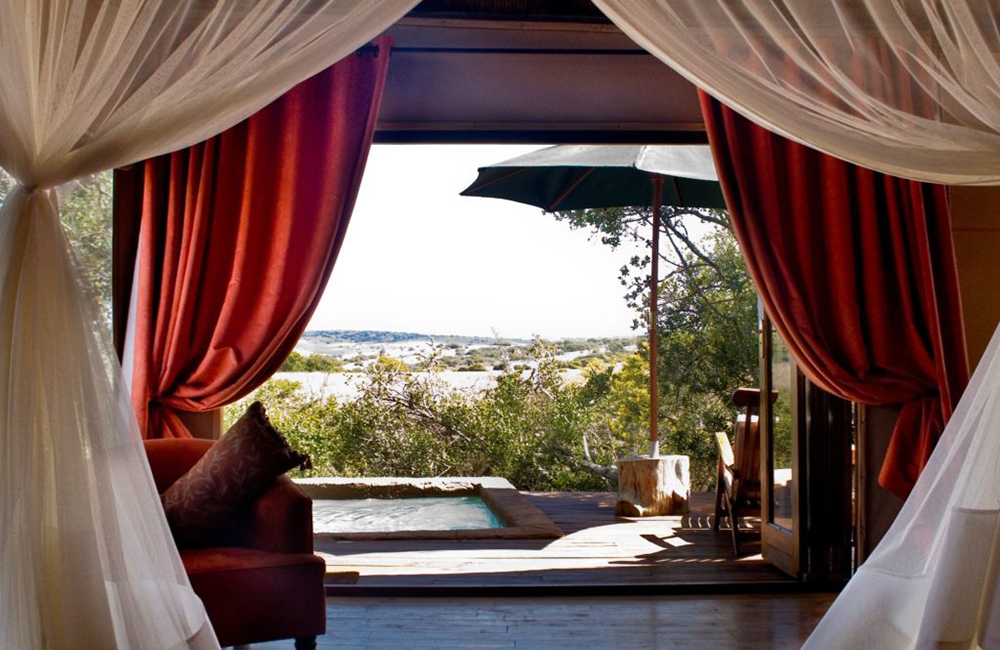 Offering a choice of elegant country houses and safari lodge options, Amakhala provides a remarkable atmosphere of relaxation and warm hospitality. Guests can also enjoy safari cruises along the Bushman's River, viewing birds and wildlife from the river waters.
Kariega Game Reserve
Also located in the Eastern Cape, Kariega Private Game Reserve boasts 5260 hectares of African wilderness, spanning five different eco-systems. Set between two beautiful rivers it provides an ideal habitat for Cape buffalo and has remarkable game-viewing year-round. The varied landscapes make the reserve a paradise of diverse flora and wildlife species. This outstanding malaria-free reserve offers safari cruises and kayaking excursions as the park's rivers run through the rolling hills to the ocean.
Expert rangers undertake daily game drives for guests in specialized 4×4 safari vehicles providing close-up sightings of the Big 5 as well as hippo, zebra, eland, hyena, giraffe, kudu, and fish eagles. With a choice of diverse accommodation options, Kariega features exclusive family-friendly units and accommodation for those looking for a more intimate bushveld experience in 4- and 5-star suites.
Klaserie Private Game Reserve
Located in the north of South Africa, Klaserie Private Game Reserve is one of the largest privately-owned reserves and forms part of the Greater Kruger National Park. The reserve is ideal for Big 5 game viewing as wildlife gather around its water sources including the Klaserie River which runs through the reserve. River access draws a range of bird species and feeds diverse flora. This Kruger based reserve offers 60 000 hectares of exclusive game viewing territory. Expert rangers and trackers guide some of the best 4×4 safari ventures featuring sightings of the African buffalo as well as the rest of the African Big 5 family. 
Other animals that reside in the reserve making for a thrilling adventure include spotted hyenas, jackals, wild dogs, hippo, giraffe, antelope, and baboons. The reserve boasts enchantingly luxurious accommodation options, ensuring a stay of extravagant wildlife encounters in a magical setting of comfort, relaxation, and breath-taking views.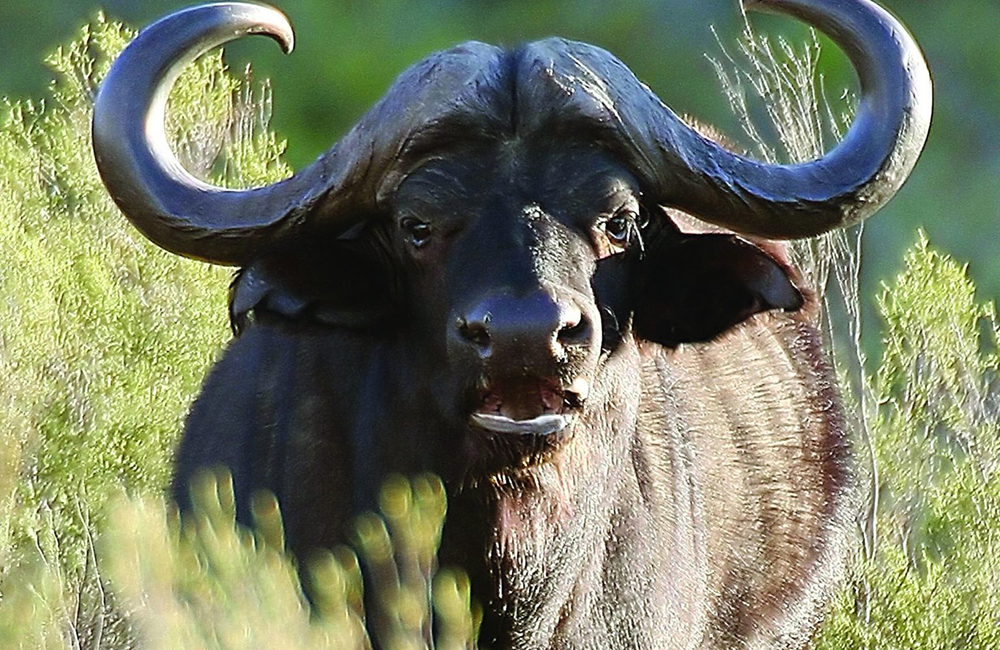 Journey to the tip of Africa to encounter the majestic Big 5 and witness the powerful presence of the Africa buffalo in its natural territory. Talk to one of our safari experts to tailor-make an unforgettable luxury African safari with grand adventures, spectacular scenery, and effortless travel.