Safaris from Cape Town
Only a 2-hour drive from the city, your Cape Town safari can either be a day trip or overnight venture.  Private game reserves are situated in the Klein Karoo and Montague, boasting beautiful African landscapes, with 4-and 5-star safari lodge options.  Staying slightly longer may allow you to maximize your safari experience giving you more time to traipse the landscape with expert guides in search of African wildlife. The game reserves in close proximity to Cape Town are by no means as populated or superior as the game reserves in the Greater Kruger and Eastern Cape, but they still offer a great Big 5 safari experience with a wide selection of African wildlife roaming freely in the reserves.
In addition to 4×4 game drives and guided walking safari's there is an overwhelming host of other activities to enjoy. Hiking, mountain biking, wine-tasting, horseback riding, and paddling are but a hand-full of adventures waiting for outdoor enthusiasts.With close proximity to the multi-cultural Mother City, extravagant wildlife, and luxurious accommodation, we highly recommend including a Big 5 game reserve expedition in your Cape Town travel itinerary.
Malaria:
Cape Town and the Western Cape are malaria-free safari areas.
Location:
Game reserves are situated in the Klein Karoo and Montague, located a 2-3-hour drive from Cape Town's city centre.
Getting there:
By Road
The reserves are a 2-to 3-hour drive from Cape Town on scenic highways.
Flying
Scheduled charter flights and helicopter transfers from Cape Town can be arranged to the reserves. Air transfers are weather dependent.
Wildlife:
Cape Town's private game reserves are not as populated or superior as those of the Kruger National Park, however, they still offer a great Big 5 safari experience with a variety of African wildlife roaming freely in natural reserve territory. Besides the chance of seeing big African cats, and rhino, you will also see plenty of elephant, Cape buffalo, giraffe, zebra, varieties of magnificent antelope, hippo, and warthog to name but a few.
Highlights:
The beauty of a Cape Town safari lies in its proximity to Cape Town's cosmopolitan city, coastal adventures, and Winelands tours. You can also enjoy quad bike safaris, horseback safaris, and beautiful hiking trails in the wild.
Reason to go:
The region is diverse and perfect for family safaris, honeymoon safaris, backpackers, and solo travellers.
Cape Town safaris are best suited to travellers who may not have time for long journeys to the remote north of the country but still wish to experience the African wild and witness the Big 5.
There are a host of activities to enjoy in close proximity to the city so you can combine a safari with many other adventures.
The region boasts incredible natural beauty from mountains and endless oceans, to vast wild plains.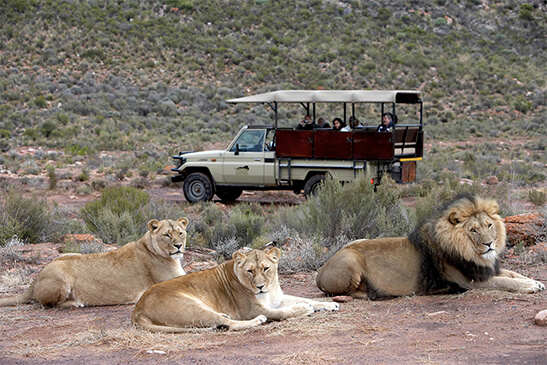 Embark on a one-day safari from Cape Town where you can witness the Big 5 roaming in a 10 000-hectare private game reserve in the Klein Karoo. A 4×4 safari vehicle sets you up for optimal viewing and wildlife photography opportunities. Let the expert guides entertain, educate, and guide you through…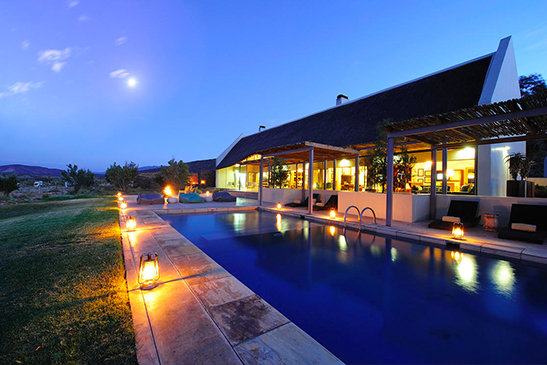 With scenic views of mountains and the Bellair Dam, Gondwana Family Lodge features a traditional thatch Karoo homestead perfect for families, friends, and small groups.  Interconnecting units feature en-suite bathrooms and private verandas, while indoor and outdoor play areas cater to guests of all ages…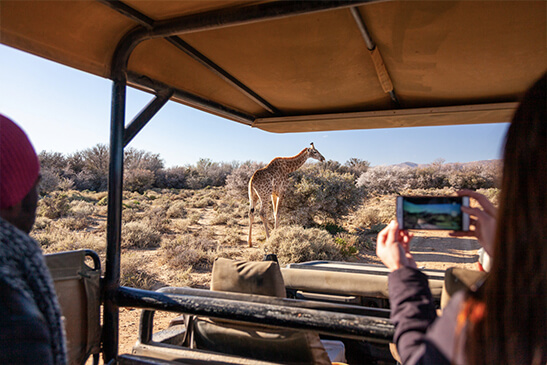 Enjoy an intimate African safari in Cape Town with the opportunity to witness a remarkable cheetah conservation program.  Inverdoorn's safari lodge offers guests a choice of luxurious 5-star suites, luxury chalets, and family units.  Each suite is equipped with air-conditioning, a fireplace, and en-suite or inter-leading…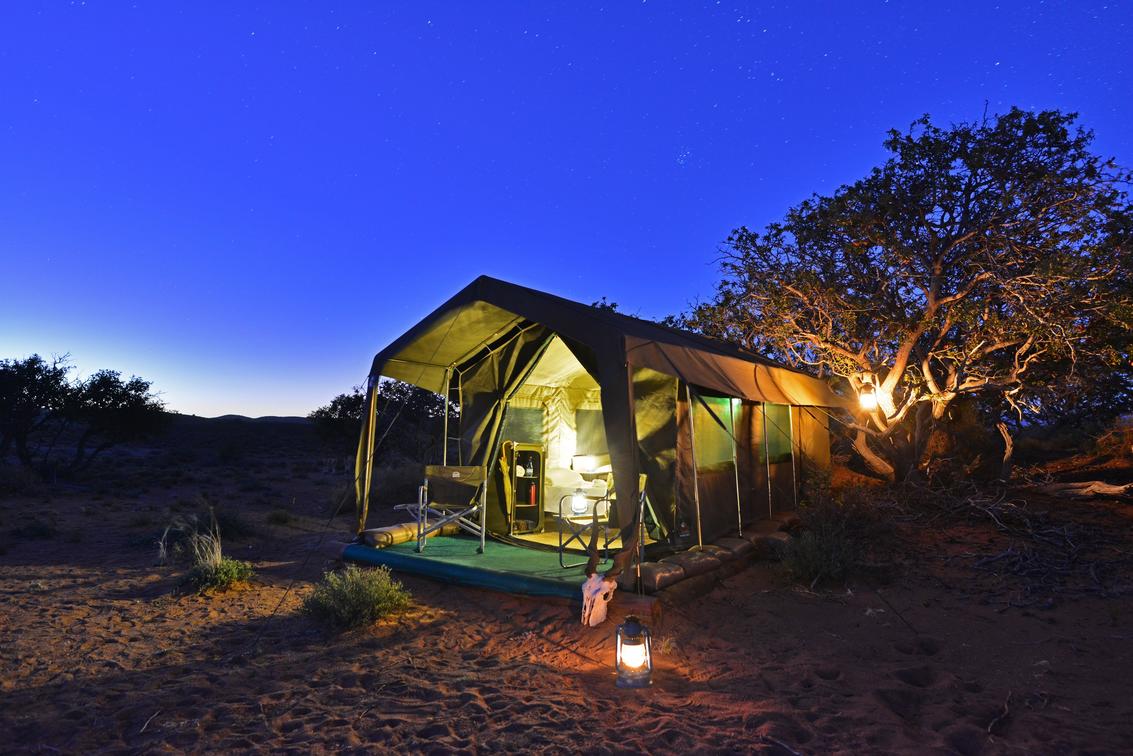 If you prefer adventure over luxury, this is the perfect Cape Town safari expedition for you.  Sanbona is the only place in the world that is home to free and self-sustaining white lions, making this a remarkable safari destination. Join a game ranger for a 2-day walking experience through the reserve, staying in tents… and enjoying cozy nights around a campfire.  Explorer Camp offers three canvas tents, sleeping a maximum of two people each. This is a great authentically wild bushveld experience.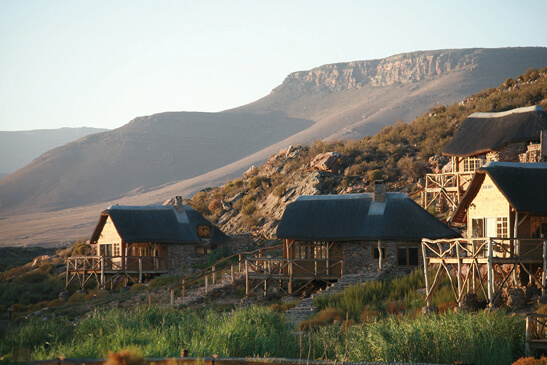 Aquila Game Reserve provides an incredible Big 5 African safari on Cape Town's doorstep. Aquila is home to multiple accommodation options including luxury rooms and cottages as well as family suites.  An ideal setting for a breath-taking and relaxing getaway,  guests can enjoy indoor and outdoor pools surrounded by remarkable… scenery and relish world-class cuisine in one of the authentically styled dining areas.  Horseback safari's, quadbike safaris, and stargazing are but a few of the exciting activities on offer.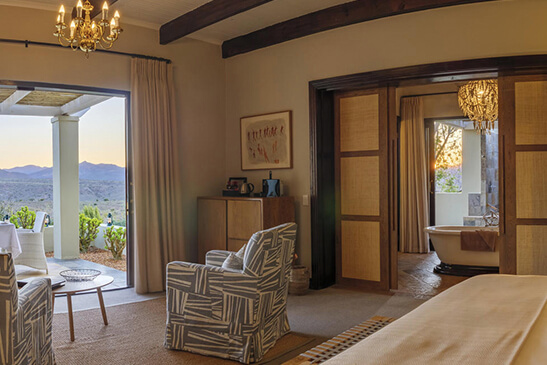 Explore the magnificence of Africa's wildlife in executive luxury at Tinley Manor.  Sanbona wildlife reserve is the only place in the world that is home to free and self-sustaining white lions, making this a remarkable safari destination.  Tilney Manor offers six luxurious open-plan suites each opening onto a private veranda… featuring breath-taking views over vast plains and mountain ranges.  An on-site rim-flow swimming pool makes for relaxing afternoons while evenings are a display of magnificent Karoo sunsets and culinary delights.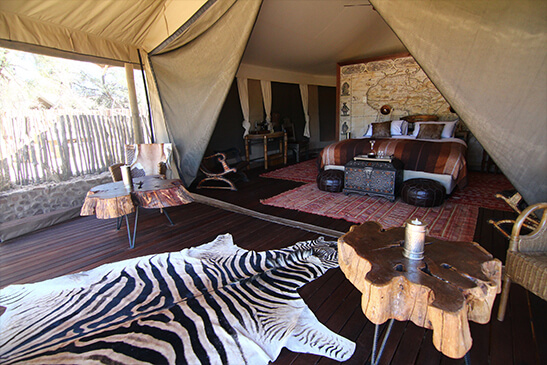 Grandeur tents offer guests an opulent experience with elegant interiors designed with comforting warmth and natural charm. Experience the wonder of nature, untamed wildlife, and African luxury. Kuganha's splash pool with deck and loungers is a great place to relax, whereas evenings are shared dining… under starry skies.  The private Kuganha chef will prepare a three-course dinner while you enjoy drinks next to a crackling bonfire.  Fall asleep to the sounds of the wild, in the solace of your lavish tented retreat.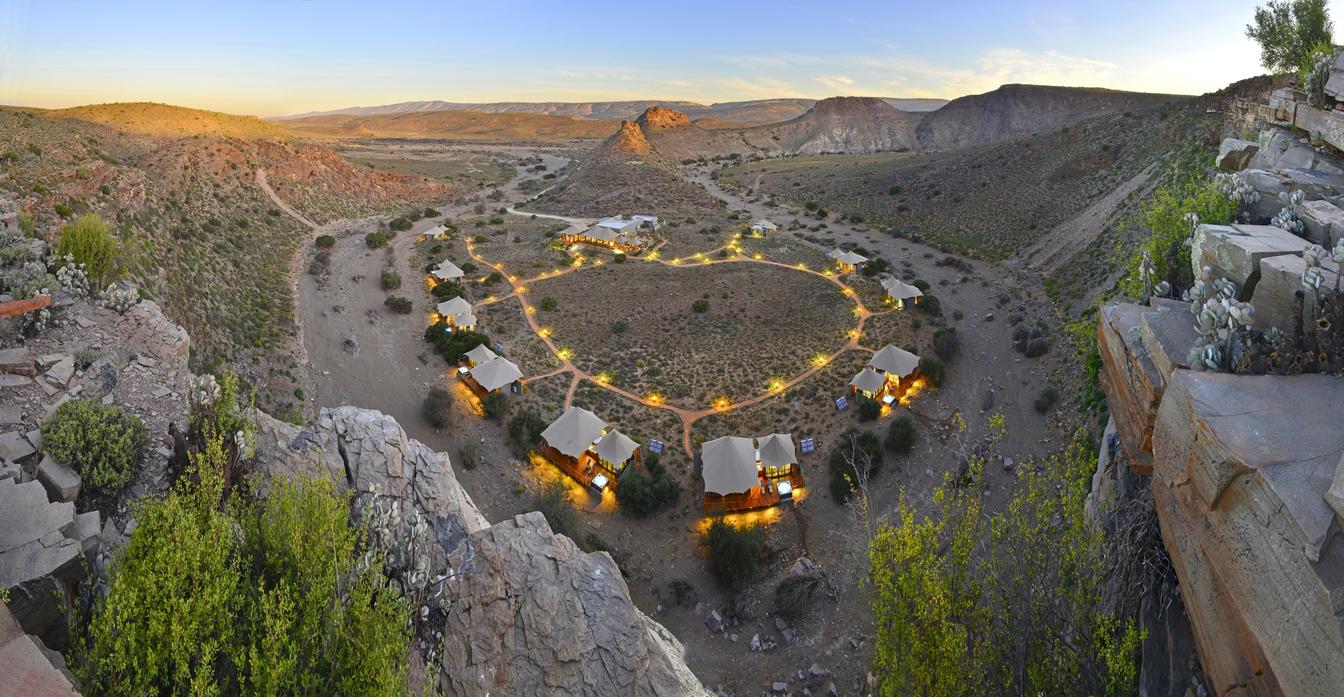 In a league of its own, Sanbona boasts a 5-star Cape Town safari experience for guests 16 years and older. This wildlife reserve is the only place in the world that is home to free and self-sustaining white lions.  The 5-star tented lodge is home to 9 luxury tents each featuring a secluded deck and private jacuzzi.  Spend evenings… in the open-air dining boma, gazing at the stars, or enjoy relaxing spa treatments after a day out on safari.
Can't Find What You Looking For?
Visiting such a diverse country necessitates some expertise to determine which area, lodge and transport will suit you best. Whether you are a family, couple or traveling solo, we'll guide you to the perfect place for an incredible safari experience

Helpful Guides & Articles
Let's start planning
Have Any Questions? Contact Us!